Coffee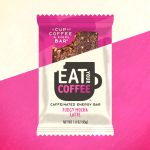 Two coffee-forward brands are getting a jolt after receiving investments. Eat Your Coffee, an energy bar company using coffee as an ingredient and as its caffeine source, and Alpine Start, a maker of instant coffee, both announced last week that they raised funds.
The limited release Anniversary Blend, which celebrates its founding by giving back to origin via the company's program Drink a Great Cup, Do a Good Thing, continues a longstanding tradition of donating to coffee-producing communities. This year, it supports Coffee Kids' youth training and mentorship work in Risaralda, Colombia.
Ohio Coffee Roaster Crimson Cup Coffee & Tea has launched a new line of single-serve coffee capsules. Designed to work with Keurig K-Cup, Keurig 2.0 and other home brewing systems, the capsules allow consumers to enjoy coffee-house quality java at home.
illycaffè, the family-owned coffee company from Trieste, Italy, committed to offering the highest quality, most ethically sourced coffee to the world, announces it is selling limited edition 250 gram cans of coffee from the winners of the first annual Ernesto Illy International Growers Award competition that took place this past November 2016.
Eat Your Coffee is pleased to announce that its award-winning Eat Your Coffee Bar is now available at Meijer grocery stores. Eat Your Coffee Bar is a caffeinated energy bar infused with a full cup of real coffee (no synthetic caffeine) and packed with superfoods to nourish and energize.
A year after launching with its first coffee expressions, Carta further expands its offerings with the release of Meridian, its lightest roast to date; a new signature Side-by-Side (SBS)Tasting Sampler featuring different roasting styles and a coffee subscription service for fans wanting seamless ordering.
Artisan roasted in small batches, Neuro Coffee(TM) is enhanced with NeuroFactor(TM).
WATERBURY, Vt.: What could be better than having great coffee delivered to your doorstep all year long? Keurig Green Mountain, Inc. (Keurig) announced today the launch of a monthly coffee subscription program, debuting in time to help consumers give the perfect gift this holiday season –the gift of coffee. With the new Keurig coffee subscription… Read more »
Crio Bru today announced the company is bringing back Pumpkin Spice for the holiday season.
This week, Coffee and MCT Oil company Caveman Coffee Co. launched their new 100% fully compostable capsules. The Single Origin Roast is perfectly measured to give you the perfect cup, compatible with Keurig 2.0 Technology.