Bites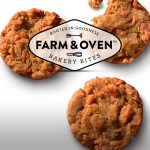 The new healthy snack company, is the brain-child of two executives who are no strangers to big CPG. CEO Mike Senackerib previously served as CMO, Senior VP of Global Brands and Chief Strategy Officer at Campbell's Soup Company while Chief Growth Officer Kay Allison advised large food companies as CEO and founder of market research firm The Energy Infuser.
Pistachio Chewy Bites products are all natural, bite-sized bars packed with heart healthy pistachios and antioxidant rich cranberries. They are the ideal snack for those looking for healthy and filling options in a convenient bar.
Just Desserts expanded its innovative Bites line with the new Ghirardelli White Chocolate Flavored Snickerdoodle Bites. Just Desserts' latest addition to its growing Bites line also expands its partnership with Ghirardelli Chocolate.
Enjoy Life Foods, the leading brand in the growing Free-From category, showcased new plant-based protein-packed ProBurst Bites and snack-size versions of the brand's best-selling baking chocolate, Baking Chocolate Snack Packs, at Natural Products Expo East.