Bare Bones Bone Broth Signs First National Retailer
Bone broth brand Bare Bones announced that it has signed Wegmans as its first national retailer. The deal will take Bare Bones into 70 of the retailer's stores, instantly doubling the brand's distribution and expanding its retail footprint to the East Coast.
Bare Bones was previously sold in 70 retailers, primarily smaller independent stores and co-ops as well two local Oregon retailers.
Wegmans is taking in the brand's classic beef and chicken broths, which are sold in 16 oz. pourable pouches and will retail for $8.99. Wegmans will merchandise the brand in its "Natural Marketplace" department. Bare Bones' Chief Broth Officer and Founder, Ryan Harvey, told NOSH there's also potential to add Bare Bones' flavor- infused broths in the future.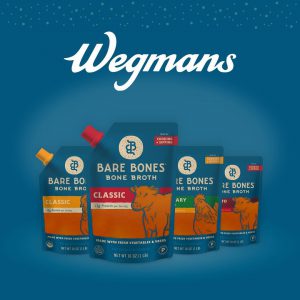 Harvey explained that unlike other bone broths, Bare Bones can be heated in its packaging. The line also can be merchandised in the refrigerated case or frozen set.
Harvey told NOSH that Wegmans' flexible terms for small brands made the deal even more appealing. "Wegmans is our first big retail account and we couldn't be more excited," Harvey noted. "Unlike many bigger retailers, they don't require free-fills and the payment terms are low. It's the perfect situation for us as a small brand."
Wegmans met the brand after their recent appearance at Natural Products Expo East, during which they served bone broth pumpkin lattes. After the conference, Wegmans invited the brand to their Marketplace show to meet all of the stores' managers.
"They're the only retailer that hosts a convention to introduce their store managers to new products," Harvey said. "It was a great way to connect with the folks who will be educating consumers at the store level on our brand, products, and for them to meet the founders. I think this really sets them apart from other retailers."