What the Next Decade Will Bring for Food and Beverage
Technomic, a Chicago-based research and consulting firm, predicts that over the next decade, Americans will dramatically change how and where they spend their money for food as compared to the previous decades when demands (and demographic trends) were more predictable. In its report titled Food Industry Transformation The Next Decade, Technomic examines the rapid changes in consumer demands and gives a 10-year projection on how it will affect various aspects of the food business, including sourcing, distribution, operations and marketing.
To stay on top of their game, entrepreneurs will need to realign their business practices accordingly to address consumers' shifting needs and also to challenges facing the food industry.
The following sections will delineate factors affecting consumer demand and challenges to the food industry, what these factors mean for food and beverage businesses, and the direction food and beverage brands are taking to adjust along with recommendations from Technomic on how to keep your brand competitive.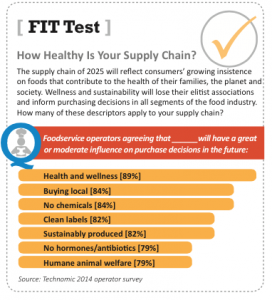 Causes For Demand Change and Challenges Facing the Industry
Technomic points to two major factors that will dictate consumer demands over the next 10 years.
Consumers' continued preference for foods that are not only more sophisticated, but healthful and good for the environment
The country's move towards an hourglass shape both demographically – with small numbers of Generation X and large numbers of baby boomers and millennials, and economically – in terms of the widening division between the rich and poor
In addition, there will be several challenges to the food industry over the next decade, which will substantially impact how food and beverage brands do business:
A lack of truck drivers and rising intermodal costs affecting distribution
Regulation from the government on food safety (Food Safety Modernization Act) and labor practices (Affordable Care Act), both of which will lead to rising costs for brands
What It Means For Food and Beverage
A Focus on Health and Sustainability
Technomic indicates that wellness and sustainability will soon lose their elitist status, and more consumers will be demanding fresh, GMO-free, local, organic, and minimally processed foods.  There will be a premium placed on transparency and this will raise the bar for standards offered by brands and restaurants alike.
A focus on fresh, sustainable and local foods will also lead to changes for retailers and distributors. Technomic forecasts that center-store, shelf-stable sales are projected to be flat at best by 2025, while perishables will explode. For distributors, smaller, more niche ones, who are able to deliver fresh and local foods will thrive compared to larger broadliners carrying more shelf-stable items, who will see slower growth.
Demographic/Economic Shift
Demographically, there are a lot more Baby Boomers and millennial consumers than Generation X, and their needs and habits will have a major impact on how the food industry changes and develops. According to Technomic's forecast, millennials will be moving to major metropolitan areas for their first jobs and boomers and/or empty nesters will be moving to more urban neighborhoods to be closer to the action.
Both groups will be minimizing car use and food businesses will respond accordingly through the use of home delivery of groceries, catering orders via digital channels, and providing more ready-to-eat meal options. The two groups' migration into more urbanized areas, though, will mean less real estate for everyone, resulting in rent inflation. This will lead to businesses to adopt leaner business models like occupying less square footage, while still trying to efficiently provide elevated services for consumers at a price level that won't turn them away.
Economically, the country has long been heading towards what Technomic calls an "hourglass economy" – divided between a relatively small number of affluent consumers contributing to a major share of consumption on the top and a much larger group of low-income consumers contributing smaller chunks on the bottom.  A study from Pew Research Center shows that data point to clear trajectories of increasing wealth for upper-income families and stagnant wealth and incomes for middle and lower-income households over the next decade.
Because of this divide, Technomic reports that the food industry is headed toward a two-tier system, where sales and market share will flow towards either high-end luxury products and experiences or value-priced goods sold in discount retailers, limited-assortment grocery stores and quick-service restaurants frequented by lower-income consumers.

Driver Shortage Challenges
Over the next decade, challenges to the food industry will come mainly from driver shortages and regulations from the government.  The American Trucking Association says that there is currently a 35,000-driver shortfall and forecasts predict there will be 250,000 fewer drivers than demanded by 2022.  Apparently, the on-the-road lifestyle appeals less to millennials than did the older generations, who currently make up a majority of truck drivers.  This shortage along with increasing intermodal rates will drive transportation costs up an estimated 50 to 100 percent, forcing distributors to rethink their models.  Yet, ultimately, this will drive up food costs for food companies, which no doubt will be passed on to consumers, many of which, as mentioned, will be quite cost-conscious already.
Regulation Challenges
Regulations from the government, such as the Food Safety Modernization Act and the Affordable Care Act will result in higher costs associated with food testing and labor requirements like providing health care.  Costs will eventually pass onto the consumer, but brands need to start assimilating these into their business models and look for efficient solutions to these added costs.  For example, in terms of health insurance for workers, brands should shop around for plans ensuring the most efficient rates possible.
How Large Companies are Staying Competitive
Here are some ways the market is already reacting to changing consumer demands and food industry challenges.
In response to the widening economic gap, Starbucks is building high-end Reserve Roastery shops in cities for well-to-do guests and experimenting with express units to  get a limited lineup of drinks to value- conscious consumers; Kroger is buying upscale brands like Harris Teeter to reach more affluent consumers.
In response to the need for more sophisticated, healthful and sustainable foods, McDonald's removed chicken treated with human antibiotics from its supply chain; Traditional supermarkets are continuing to emulate offerings and displays from upscale retailers like Whole Foods and Sprouts.
In response to health demands and the need to keep foods affordable, supermarket freshly prepared foods ($23 billion in 2014 sales) are leading the way for sales growth, estimated to grow 7.5 percent per year to $51 billion by 2025.  According to Technomic, freshly prepared foods have the potential to appeal to both affluent consumers' demand for local, upscale, and fresh meals while serving as an affordable alternative to restaurant meals for more price-conscious consumers. Likewise, meal subscription services like Blue Apron, Plated and online retailer food sales will grow in popularity (13.5 percent annually to $60 billion in 2025) as consumers subscribe to get a more stable and convenient supply of gourmet and specialty foods, while not spending as much compared to a restaurant outing.
Targeting wealthy consumers' fresh and healthy demands, Chicago-based specialty foods distributor, Local Foods, is targeting not just restaurants and upscale retailers, but to affluent consumers and delivering local, fresh produce right from their distribution center to the consumer's home.
In response to rising costs, large retailers like Walmart are adopting leaner, but powerful business models like its Neighborhood Market format, which takes up less space physically, keeping rental costs down while still trying to provide affordable products and services to the consumer. Other retailers are shrinking footage in center-store space in favor of display kitchens and open food preparation areas, which expand on space for fresh foods and give consumers more of the services they want.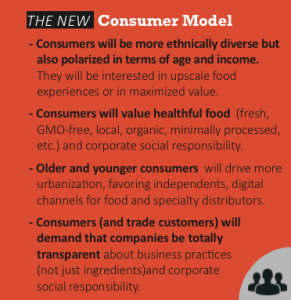 Recommendations for Entrepreneurs
Consumers have already began shifting what and how they buy according to changes in priority, the economy and food supply. Technomic states that in order to succeed, brands need to fundamentally reimagine and reformat how they go to market and do it with urgency. Here are some tips they recommend for brands:
Reinvent the Food Supply and Focus on Digital Platforms – Because of the focus on health, a significant portion of a brand's resource should be put into providing a healthful food supply built on fresh offerings. In addition, these new offerings must be accessible to anyone via online, mobile or digital means.
Act Small to Grow Big – Brands must think and act like a small company and be nimble enough to meet shifting demands quickly. Bigger companies like Campbell's are acquiring smaller companies to do this, but the point is that retailers and brands must be able to test new products and platforms quickly to either scale them up if it works or fail quickly and move on if they don't.
Embrace Digital and Big Data – The effects of challenges to the food industry and rapidly shifting consumer demands can be mitigated with data-driven solutions like consumer insight. Brands need to develop capabilities or partner with digital startups to start collecting, analyzing and using such data.
Pre-empt the Demand for Health-Focused Foods – As consumers' definition of health evolve and descriptors like "fresh," "local" and "sustainable" lose their elitist associations, consumers beyond the rich will start purchasing. In addition, noncommercial segments like schools and healthcare are beginning to demand fresher and healthier foods.  Brands must elevate their food offerings to higher levels of health and food safety – examining the supply chain and manufacturing processes – for consumers to truly take notice.
Be Transparent and Ethical – Consumers want transparency not just on company food labels, but also in their brand identity as good corporate citizens. Technomic says that brands must examine their policies on the three Ps – people, products and planet, but obviously be mindful of the fourth P – profitability. Brands need to be addressing everything from antibiotics in the supply chain to carbon footprint to employee compensation and show leadership in at least one of those area.