Top Natural and Organic Food Trends of 2015
With the natural and organic market being as developed as it is, what else can entrepreneurs do to continue and innovate?  Last month, Boulder-based brand-building firm, Sterling Rice Group (SRG) released its top nine natural and organic food trends for 2015.  The list was put together by SRG's culinary director, Kara Nielsen, through tracking consumer data and trends from the year and observing new products at a variety of industry trade shows.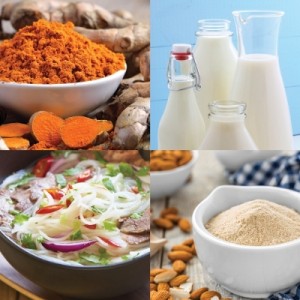 Surprisingly, brands are still finding ways to innovate and meet consumer demand.  However, as Nielsen told Food Business News in a recent article, "A lot of it is all somewhat familiar, so you have to look a little harder to recognize what's new and different. We're not going to see many earth-shaking things; it's more these subtle shifts and maturations by category and topic."
Nielsen put specific emphasis on revitalized sources for daily nutrition, easier-to-use delivery formats, disease-prevention and stress-reduction ingredients as well as better tasting "free-from" foods.  Sustainability as well as a commitment to delivering tasty and potent global flavors remain strong as well.
Here are the nine top trends along with some brands associated with each:
1. Hemp Protein
Complete protein that is easily digestible
Balanced omega fatty acids
Moving from milk and protein powder to bars, snacks, burgers, and nut butters
Brands: Evo Hemp Bars, Yumbutter Organic Superfood Nut Butters, Manitoba Harvest Hemp Heart Bites
2. Milk and Butter, Optimized
Enhanced nutrition
Maximum digestibility and protein
Brands: A2 Milk, Fairlife Milk, Tava Pure Spreadable Butter
3. Powdered Flavor and Nutrition
Fruit, vegetable and vitamin powders allow flavor and nutrition to be easily sprinkled onto foods like yogurt and eggs
Brands: Kickers Powdered Food Blends, Super Sprout vegetable and fruit powders, Doctor Rach's Kidz Sprinkles multivitamin powder
4. Turmeric
Anti-inflammatory and antioxidant benefits
Appearing in products beyond Indian meals like teas, beverages and convenience staples
Brands: Numi Organic Tea Tumeric Tea, Healthee Organic Turmeric Brown Rice
5. Asian Medicinal Herbs and Roots
Herbs, roots and mushrooms from Chinese medicine and Indian Ayurveda
Benefits include mental clarity, stamina, sustained energy, and immune support
Brands: Four Sigma Foods mushroom hot chocolate mixes, Rebbl Superherb Elixirs and Tonics, Navitas Naturals Superfood + Maca Maple Chews
6. Using Nuts Instead of Grain
Almond and coconut flours replacing grain in baked goods and mixes
Gluten-free and paleo friendly
Brands: Simple Mills Almond Flour Mixes, Mikey's Muffins English Muffins, Jackalope Good Food Company Baking Mix and Bread
7. Dairy-Free Cheese
Artisan dairy-free cheeses made from nut milks
Brands: Miyoko's Kitchen, Treeline Treenut Cheese, Kite Hill
8. Sustainable Packaging
Addressing packaging waste with sustainable packaging
Biodegradable (and sometimes edible) boxes, single-serve coffee pods and disposable beverage cups in bright and fun colors
Brands: Loliware Biodeg(edible) Cups, OneCoffee Organic Single Serve Coffee Pods, Back to the Roots Stoneground Flakes cereal carton
9. Bold, Global Flavors
Authentic, bold, global flavors
Seen in shelf-stable snacks, frozen meals and fresh prepared soups
Brands: World Peas Snacks, TaDah! Foods Falafel Poppers, Nona Lim Broths