More and More, Snackers Love Crackers
As on-the-go Americans increasingly to turn to snacks in favor of sit-down meals, many food marketers view crackers, seen as a better-for-you option as compared to chips and pretzels, as critical to new product development — and greater sales.
Forbes last year reported that crackers represented the largest segment of the $28.2 billion market for salty snacks, constituting nearly 25 percent of net sales in 2013. Potato chips came in at number two on the list, accounting for 20 percent of all salty snacks sold.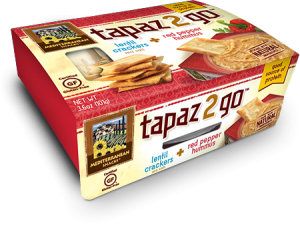 Mintel, a global provider of market data and research, reports that 2013 cracker sales totaled $7.4 billion, growing by 19 percent since 2008, and are expected to rise by 33 percent to $9.3 billion by 2018. Potato chips, by comparison, grew at about a compound annual growth rate of just 3 percent from 2009 to 2013, according to MarketLine, a publisher of global business information.
A recent report from market research firm Packaged Facts titled "Crackers: U.S. Market Trends" points to shifting consumer trends toward healthier snacking habits as a key reason for crackers gaining appeal among consumers. As a result, large food companies are overhauling well-known brands to connect with an evolving consumer, while some smaller marketers are finding traction with products positioned as unique and artisanally made.
Food marketers are also attempting to take advantage of rising demand by using crackers as a component in portable meals. As an example, Packaged Facts pointed to Mediterranean Snack Food Company's "tapaz2go," an on-the-go meal packaged with lentil crackers and a small container of hummus.
And while some some companies are experimenting with new textures and flavors for crackers, many are connecting with consumers by promoting crackers as a snack option with less cholesterol and calories than other products. Packaged Facts notes that, amid booming demand for fruit- and nut-based snacks, cracker producers should continue to focus on attributes of health and wellness as it relates to product development and promotion.
"Marketers of crackers are succeeding in giving consumers more opportunities to congratulate themselves for eating healthy-ingredient crackers with a good-for-you image," Packaged Facts writes. "This is a critical element in any growth strategy for crackers marketers since Packaged Facts has found that household use of healthy-ingredient snacks, such as fruit- and nut-based snacks, far outpaced use of crackers during the past decade."