For Dollar Stores Food Makes Cents
Crowded aisles, past its prime dented shelf stable food items, flickering lights, wobbly carts and a plethora of "who would buy that?" items — these are the images of dollar stores past. In the new regime, dollar store chains, including 99 Cents Only Stores, Dollar Tree and Dollar General, are changing their models and merchandising in order to capitalize on consumers' desire for fresh, healthy foods that are also affordable.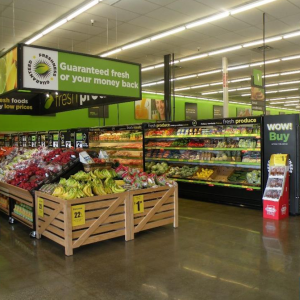 Today, 99 Cents Only Stores announced the appointment of Geoffrey Covert as President and Chief Executive Officer. Cover previously spent 18 years at The Kroger Company, one of the world's largest food retailers, where he most recently served as Senior Vice President. This follows 99 Cents Store's appointment, in July, of Jack Sinclair as Chief Merchandising Officer. With a deep background in grocery retail, Sinclair had most recently been an Executive Vice President of Walmart's Grocery Division for seven years. Before Walmart, Sinclair had spent 14 years at Safeway. Placing two grocery execs in key management roles speaks strongly to the 99 Cents Only Stores' plan to bet heavily on grocery products.
That's not the only dollar chain taking this merchandising strategy. On the most recent Dollar General Q2 Earnings Call, CEO Todd Vasos described a plan for 2016 that includes all of its new stores, relocations, and remodels featuring a new format that focuses on perishables and increases cooler penetration. According to reports, consumables already made up 75.7 percent of Dollar General's revenues last year, up 63 percent from a decade ago.
Vasos justified these changes with the statement that "across the chain, a basket with a perishable item is nearly 50 percent higher than the chain average. This is a big opportunity that we know how to capitalize on, as we have already increased the cooler count on average by just over 50 percent since 2008."
Dollar Tree echoed similar plans on their 2015 Q2 Earnings call. CEO Bob Sasser stated that one of the keys to growing the stores' sales is offering "unbelievable values on many name brands and bonus buys especially in our food, snack, beverage and household supplies."
The chain installed freezers and coolers in 159 additional stores in the second quarter, for a total of 255 additional stores year-to-date. Bringing the number of stores currently offering frozen and refrigerated products to 3,875 stores.
Although frozen and refrigerated merchandise are lower-margin categories for Dollar Tree, according to Sasser, the store focuses on it because the categories see faster turns and drive increased shopping frequency and trips. While consumers are in store to purchase perishables, they're also more likely to add an incremental item to their basket, which includes more of the higher margin items. However, Sasser stated, the most important reason to focus on growing this category is that it "serves the need of our customers."
The full press release from the 99 Cents Only Stores is below:
CITY OF COMMERCE, Calif., Sept. 11, 2015 /PRNewswire/ — 99 Cents Only Stores LLC announced today that Geoffrey Covert will join the Company as President and Chief Executive Officer, effective later today. Mr. Covert was selected by the Board of Directors for his extensive senior leadership experience in the grocery retail sector, having most recently served as a Senior Vice President at The Kroger Company, one of the world's largest food retailers. Interim CEO Andrew Giancamilli will remain with the Company as the Chairman of the Board and will continue to work from its City of Commerce headquarters during a transition period.
"I am excited to join this growing and transforming business. I was attracted to 99 Cents Only Stores' strong fundamental business strategy, longstanding brand loyalty among customers, and its long-term growth potential in the extreme value sector," said Mr. Covert.
"After a thorough and extensive search process, we believe that Geoff has the experience to continue to implement and build upon the short- and long-term strategies we have initiated at the Company. I look forward to working with him and the rest of the 99 Cents Only Stores management team to ensure a smooth transition," said Mr. Giancamilli.
"We are confident in the core 99 Cents Only business and continue to believe it is one of the most unique extreme value brands in the industry. The Board feels strongly that Geoff has the experience and leadership to drive the Company to the levels of growth we believe it can reach," said David Kaplan, Director of 99 Cents Only Stores and Co-Founder and Partner of Ares Management, L.P. "The Board would like thank Andy for his service as Interim President and CEO, and we look forward to his continued commitment to the Company as the Chairman of the Board."
At Kroger, Mr. Covert was previously responsible for nine operating divisions as well as new market expansion. Prior to joining Kroger in 1996, he worked for 22 years in a number of management positions at The Procter & Gamble Co. Mr. Covert holds a Bachelor of Science degree in Chemical Engineering from Case Western Reserve University.
About 99 Cents Only Stores: Founded in 1982, 99 Cents Only Stores is the leading operator of extreme value stores in California and the Southwestern United States. The Company currently operates 389 stores located in California, Texas, Arizona and Nevada offering a broad assortment of name-brand and other attractively-priced merchandise and compelling seasonal product offerings.