Finding Healthy and Organic in Non-Traditional Places
Whole Foods' grip as America's top provider for organic foods is slowly slipping. In comparison to years' past, when Whole Foods was the dominant player in natural and organic offerings, competition is increasingly fierce in retail channels considered non-traditional for natural and organic products. Stores in club, mass and conventional grocery channels continue to add healthier food and beverage options to their shelves, often with greater convenience and lower prices for consumers. While Whole Foods is fighting back with its first ever nationwide marketing campaign, retailers continue to press forward with new natural and organic offerings as they vie for a piece of the booming market for "better-for-you" products.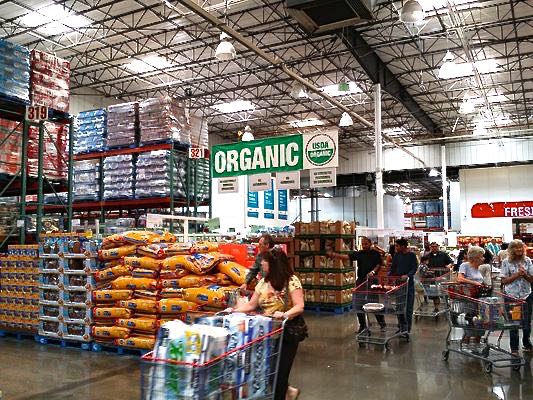 Here's where the change is taking place:
Grocery Stores: According to an April, 2014 report by the United States Department of Agriculture (USDA) , three out of four conventional grocery stores now carry organic products. Supermarkets are traditionally known to have low profit margins, but the ones carrying organics are seeing it pay off. Kroger, a Cincinnati-based company, operating more than 2,800 supermarkets and convenience stores nationwide, saw its earnings per share at double digits nine of the past 10 quarters, with a 12 percent rise in revenue this previous quarter. Natural and organic food sales are a large part in spurring the growth; according to analyst Mark Wiltamuth with global investment firm Jefferies, natural foods are a $4 billion to $5 billion category for Kroger and growing at a double-digit rate.
Convenience Stores: Busy shoppers are turning to convenience stores for healthy alternatives. According to a report by Convenience Store Petroleum Magazine, which showed top growth in convenience stores by category, alternative snacks such as protein and granola bars jumped 30.5 percent in monthly sales when comparing data from 2012 to 2013. Furthermore, the National Association of Convenience Stores says sales for fruits and vegetables were up by 16.7 percent in 2013, outpacing that of overall sales of produce in the U.S. (up 7.3 percent). Meanwhile, Kwik Trip, Inc., a prominent Midwest convenience store operator, announced during the 2014 Whole Grains Council conference that it has launched an EATSmart program, which calls for the incorporation of whole wheat and healthier food options into its convenience stores.
Club and Mass Super Stores: Sam's Club recently announced that it was significantly expanding its organic portfolio and plans to more than double the selection by the end of next year. Organic product sales at Costco, the largest club retailer in the country, have doubled in two years to about $3 billion, according to Bloomberg Businessweek.
However, perhaps the biggest news in market for organic foods is Walmart, the nation's largest grocer. Walmart says it is promising to sell organic foods at affordable prices, equal to that of its non-organic foods. It says it is doing so through its Wild Oats brand, one originally owned by Whole Foods. Walmart currently sells over 1,600 organic items including dairy, meat and various pantry items.
Despite Walmart's "organics-for-all" strategy, the biggest obstacle to continued growth and cheaper prices for organics is a lack of supply. It takes years for farmers to convert to organic production, and with the rise of general food prices, the incentive has not been that high. Nevertheless,Walmart's own research found that 91 percent of its shoppers would consider buying organic products if it they were affordable.
Currently, the USDA reports that fruits and vegetables top the organic sales chart at 43 percent, followed by dairy at 14.6 percent. Beverages represent 11 percent of all organic sales with packaged/prepared foods coming in at 10.6 percent.