SuperSeedz Chosen for Inaugural Specialty Foods Consumer Advertising Campaign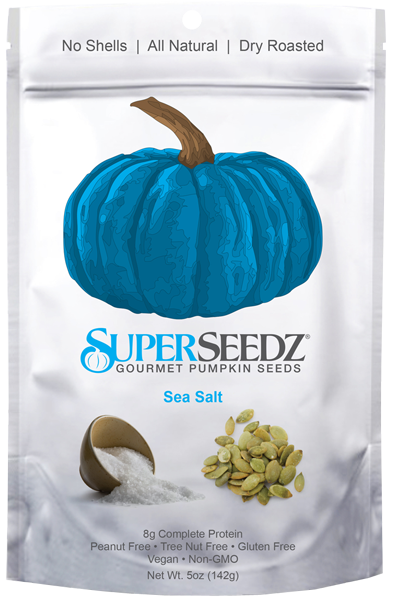 Specialty Food Association Develops Ad and Retail Campaigns to Support Innovative Brands During Upcoming Summer Fancy Food Show 
(NORTH HAVEN, CONN., June 23, 2015) – Less than a month after receiving the Most Innovative New Product award at the Sweets & Snacks Show, SuperSeedz announces it has been chosen to be featured in the Specialty Food Association's Celebrate Specialty Food. Craft. Care. Joy. consumer ad campaign.
SuperSeedz and three other brands will be featured on billboards in Times Square, at the entrance to the Holland Tunnel and near the Javits Center, as well as in 260 subway station ads in Manhattan, Queens, the Bronx and Brooklyn. Online presence includes features on food websites like Grub Street, Eater, and Bon Appetit.
"We are very excited about the campaign and about highlighting brands that embody what the Specialty Foods Association is all about: distinctive products that consumers love, crafted by people who care," says Louise Kramer, Director of Communications, Specialty Food Association.
SuperSeedz – one of the fastest-growing snack brands over the last year – features 9 flavors of no-shell gourmet pumpkin seeds. The newest flavor, Maple Sugar & Sea Salt offers 7 grams of plant-based protein, 2 mg of Iron and 2 mg of Zinc in just ¼ cup. All varieties are non-GM0 verified, cholesterol- and trans-fat free, allergen friendly (gluten- free, peanut-free, tree nut-free, egg-free, dairy-free, fish-free, shellfish-free and include soy-free ingredients). Maple Sugar & Sea Salt joins the brand's eight other existing flavors – Really Naked, Sea Salt, Cinnamon & Sugar, Coco Joe, Tomato Italiano, Curious Curry, Somewhat Spicy and Super Spicy.
"It really has been an amazing ride. We were so excited to receive the Most Innovative New Product award, and we are honored to be part of the Specialty Food Association's 'Craft. Care. Joy.' Campaign," said Kathie Pelliccio, founder of SuperSeedz. "It really is fun to see that the trade industry and consumers are as passionate about natural ingredients, great flavors, and nutritious snacks as we are."
SuperSeedz was chosen from among thousands of other brands for their innovative products, the background of founders Kathie and Joe Pelliccio, the package design, flavor profiles, and the fact that the product offers numerous health benefits.
For more information on SuperSeedz please contact their media representative, Mary Garrett at 602-432-2010 for interviews, images and additional information.
About SuperSeedz
Rooted in homegrown beginnings, the idea for SuperSeedz was cooked up in 2003 by founder Kathie Pelliccio in her own kitchen. Kathie, a mother of five, chef and entrepreneur, was experimenting with dry-roasted pumpkin seeds as a healthy snack for her family. Years later, the business has since grown from a small seedling into a nationwide brand, encouraging and empowering consumers to never snackrifice taste for nutrition. Currently available in nine mouthwatering flavors – Sea Salt, Super Spicy, Somewhat Spicy, Tomato Italiano, Curious Curry, Coco Joe, Cinnamon & Sugar, Really Naked and Maple Sugar & Sea Salt – SuperSeedz are dry-roasted in small batches without shells, using a proprietary, artisanal pan-roasting technique that bakes the seasoning right in to each seed. The result is an enhanced snacking experience with unparalleled taste and a delightfully addicting crunch. SuperSeedz are sold at grocery, health food and gourmet food retailers across the U.S., including Whole Foods, Sprouts and Safeway, Inc. stores. They can also be purchased online at superseedz.com.
For more information:
https://twitter.com/superseedz