Rader Farms Adds Organic Variety To Its Fresh Start Line Of Smoothie Blends
PHOENIX, Sept. 9, 2015 /PRNewswire/ — A healthy, nutritious start to the day just got easier as Rader Farms expands its convenient Fresh Start line of ready-to-blend smoothie kits with the addition of a USDA certified organic Fresh Start Smoothie Blend variety. The delicious blend of real food ingredients, including blueberry, strawberry, red raspberry, kale and spinach, is currently available at Costco Wholesale® stores across the Western United States.
The innovative smoothie "starter" kits from Rader Farms, an Inventure Foods, Inc. (Nasdaq: SNAK) company, features only real fruit and vegetables, with no sweeteners, preservatives or other added ingredients. In addition, it is dairy-free, vegan, certified gluten-free and an excellent source of vitamins A and C.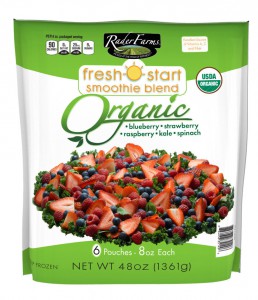 Each 48-ounce package of organic Fresh Start Smoothie Blend contains six individual 8-ounce pouches of mixed fruits and vegetables that provide an endless array of smoothie recipe combinations. Consumers can mix with juice, milk or coconut water or add protein powder or yogurt, and so on.
"Health conscious consumers are looking for fresh, real food ingredients but they also value convenience," said Dan Hammer, senior vice president and general manager of the frozen division at Inventure Foods. "Fresh Start Smoothie Blends are the very definition of convenience, yet there are no shortcuts in terms of the quality and purity of the ingredients. We believe the addition of an organic variety will appeal to an even wider audience of healthy eaters, and we are optimistic that it'll pave the way for additional organic varieties in the future."
Rader Farms first introduced its Fresh Start Smoothie Blends to grocery stores this past spring with a line-up that consists of Sunrise Refresh (blueberry, strawberry, red raspberry, kale and spinach), Morning Vitality (mango, nectarine, sweet potato and carrot) and Daily Power (green apples, pineapples, kale and broccoli). The line was immediately accepted by clean food purists seeking a convenient alternative to pitting, peeling and slicing multiple ingredients when making healthy smoothies at home. Fresh Start Smoothie Blends solve that issue with ingredients that have been fully prepped, washed and mixed together in one package, so making a delicious, nutritious homemade smoothie is now possible in less than a minute.
Since the introduction this past March, more than 1,500 grocery, club and mass merchandise retailers have added the smoothie "starter" kit to the frozen food aisle.
About Inventure Foods, Inc. — With manufacturing facilities in Arizona, Indiana, Washington, Oregon and Georgia, Inventure Foods, Inc. (Nasdaq: SNAK) is a marketer and manufacturer of specialty food brands in better-for-you and indulgent categories under a variety of Company owned and licensed brand names, including Boulder Canyon FoodsTM, Jamba®, Seattle's Best Coffee®, Rader Farms®, TGI FridaysTm , Nathan's Famous®, Vidalia Brands®, Poore Brothers®, Tato Skins®, Willamette Valley Fruit CompanyTM, Fresh FrozenTM and Bob's Texas Style®. For further information about Inventure Foods, please visit www.inventurefoods.com