It's a Scoop! Clover Launches New Cowlifornia-Made Organic Ice Cream Line
Petaluma, CA (April 22, 2015)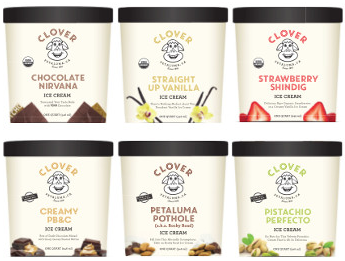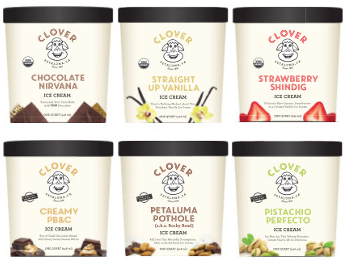 Clover Stornetta Farms, a leading brand in the dairy industry, is launching a new line of premium ice cream made from fresh organic Clover milk and cream. These 12 new, decadent flavors will debut as a six-month exclusive placement in local independent grocers and Whole Foods Market®. "Giving Whole Foods Market and our independent stores an exclusive, serves our mission to support businesses with like-minded philosophies," says Clover President & CEO Marcus Benedetti. "Craft ice cream is booming. The farming principles behind our nutritious milk coupled with interesting ice cream flavors and partnerships will put Clover's best dairy foot forward."
Logo – http://photos.prnewswire.com/prnh/20150421/200157LOGO
Each quart is made with organic milk from happy, humane-certified Clover cows living on family-owned dairy farms. Every scoop is blended with the best quality local ingredients to create these new flavors: Chocolate Nirvana (made with fair trade Organic TCHO Chocolate in Berkeley), Straight Up Vanilla, Mint to Be, Hoppy Hour (using Bear Republic Brewing Company's Racer 5 IPA® from Cloverdale), Cowlifornia Sweet Cream, French Press, Eat Your Milk & Cookies, Strawberry Shindig, Creamy PB&C, Pistachio Perfecto, Petaluma Pothole (in honor of our hometown's roads) and Tempt Me Toffee (made with San Francisco's Charles Chocolates English Toffee).
For more information, please visit:  http://www.cloverpetaluma.com/meet-our-12-new-flavorites/
The exciting reveal of Clover premium organic craft ice creams will kick off with in-store samples, signage and a strategic radio campaign with social media messaging, and PR that reflects Clover's core values of farm-fresh, sustainability, family, animal welfare and superior quality.
About Clover: Third-generation family-owned and operated Clover Stornetta Farms is long recognized as a leader at the forefront of the dairy industry. ThePetaluma-based company in California's beautiful Sonoma County was the first dairy in the United States to become American Humane Certified and hold its partnership of family-owned dairy farms to a higher standard by developing its own unique North Coast Excellence Certified program. Clover is proud to bring clean, wholesome, high-quality dairy products direct from their family of farms to consumers and their families. The company's passionate support of animal welfare, sustainable business practice and local community are hallmarks of the business. For more information, please visit:  http://cloverpetaluma.com