Happy Family Introduces Shine Organics: a New Brand of Snacking Pouches for Adults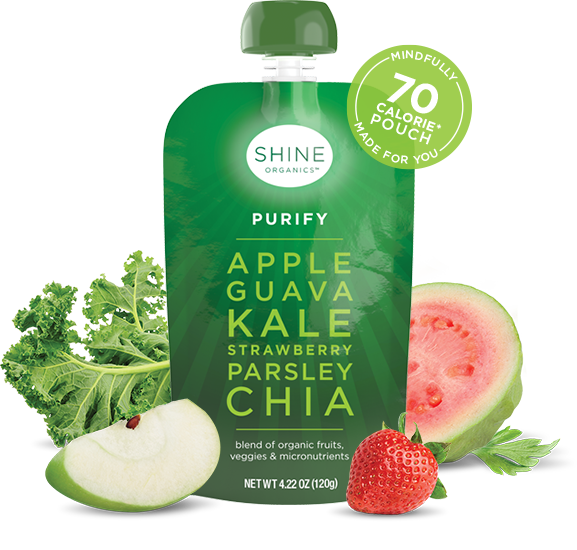 NEW YORK–(BUSINESS WIRE)—Happy Family®, a leading premium organic food brand delivering optimal nutrition for babies, toddlers and beyond, today announced the launch of Shine Organics, a new brand offering a line of adult snacking pouches mindfully made with a special blend of organic fruits and vegetables, featuring additional purposeful ingredients to feed the moment.
According to The 2014 Nielsen Global Survey of Snacking*, nutritional value was the top reason why 63 percent of global respondents eat snacks; 45 percent of respondents rated snacks with all natural ingredients as being very important, highlighting that consumers are seeking healthier snack options. Additionally, 64 percent of respondents eat snacks to improve their mood. Made with real fruits and vegetables, chia seeds, and superfoods that are combined to support your entire wellbeing, Shine Organics pouches help make conscious snacking easier and help consumers shine from the inside out.
Available in four bold flavor combinations geared towards a sophisticated adult palate, Shine Organics pouches contain nourishing, wholesome and unique ingredients including turmeric, green tea, parsley, and passion flower that benefit body, mind and mood. Each pouch was developed with distinct ingredients that correspond to the needs consumers are looking to get out of healthy snacking: PURIFY, ELEVATE, REVIVE and CALM. Offering both nutritional benefits and great taste, Shine Organics pouches provide a superior snacking solution with organic, gluten-free ingredients for only 70-130 calories per serving (one pouch).
"Happy Family pioneered the pouch category and for years we've been delivering organic fruit and vegetable nutrition to little ones through this convenient format that allows parents more flexibility and mobility with feeding," said Shazi Visram, founder, CEO and chief mom of Happy Family Brands and Shine Organics. "We're thrilled to now expand into adult snacks, created specifically for those who expect and demand more from their food."
Shine Organics pouches offer active adults an excellent source of antioxidants Vitamin A and C, as well as Potassium and Fiber. Shine Organics pouches are available in four flavors, including:
PURIFY: Apple, Guava, Kale, Strawberry, Parsley, Chia
ELEVATE: Banana, Carrot, Mango, Orange, Wheatgrass, Turmeric, Chia
REVIVE: Pear, Celery, Coconut, Lime, Green Tea, Chia
CALM: Banana, Pumpkin, Coconut, Blackberry, Vanilla, Passion Flower, Chia
Shine Organics pouches are available at Target and other select grocers nationwide with a suggested retail price of $5.99 for a 4-pack and $1.69 for singles of 4.22 oz. pouches.
For more information about Shine Organics, visit www.shineorganics.com. For additional information about Happy Family, visit www.happyfamilybrands.com or contact Jessica Weeg at 646-762-8724 or weeg@havasformula.com.
* The Nielsen Global Survey of Snacking was conducted between Feb. 17 and March 7, 2014 and polled more than 30,000 consumers in 60 countries throughout Asia-Pacific, Europe, Latin America, the Middle East, Africa and North America. The sample has quotas based on age and sex for each country based on its Internet users and is weighted to be representative of Internet consumers. It has a margin of error of ±0.6%.
About Happy Family
Launched on Mother's Day 2006, Happy Family® is one of the first organic brands to offer a complete line of nutritious foods for babies', toddlers', and kids' growing bodies. Constantly innovating, Happy Family has been a pioneer in the industry, adding probiotics and extra nutrition to many of its products—like Salba®, the super chia, as well as plant-based DHA and choline for brain growth and eye health—whenever possible. Happy Family has been consistently recognized for its dynamic team and its extraordinary growth and innovation, including winning Food Processing Magazine's R&D Team of the Year, being named by Forbes as one of America's most promising companies; and most recently, Shazi Visram, CEO and Founder of Happy Family, being named a member of the Young Global Leader Class of 2013 by the World Economic Forum. Happy Family believes that every baby deserves to be a happy baby. Since its launch, the company has underwritten more than 1 million meals through Project Peanut Butter, a nonprofit that helps to feed starving children in Africa. For more information, about Happy Family, connect on Facebook, Twitter, Instagram and visit www.happyfamilybrands.com.