dailyServing A New Functional Food Company Unveils Revolutionary Line Of Purpose Driven Foods 
Chicago, IL (April 27, 2015)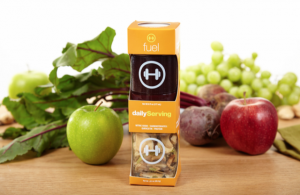 Answering the question of what to eat just got a lot easier for Chicagoans. With so much information – and misinformation – about what is healthy, this is great news for 50 percent of Americans who are actively making choices to improve their diets. dailyServing is a startup company that understands the challenges of eating healthy in everyday life. Researched and designed by Registered Dietitians, dailyServing has created 9 purpose driven solutions crafted for health benefits that go beyond basic nutrition.
dailyServing is the first company to use the natural attributes of whole foods to address the most common health and wellness needs. One portion of cold pressed juice and a combination of vegan, gluten-free dry foods create a complete package that is convenient, on trend, and promotes portion control. Each unique combination of ingredients works to harness the natural power of food to deliver vitamins, minerals and phytonutrients that provide specific health benefits. Through fruit, vegetables, nuts and seeds, dailyServing's line of purpose driven products addresses such things as focus, energy, hunger management and pre- and post-workouts. Whether eaten as a snack or a small meal, dailyServing takes the guesswork out of eating smart.
"Consumers are looking to food to provide more than just life-sustaining calories – they want their food to really work for them. dailyServing is the first of its kind to harness the power of whole foods in this way. We have seen that supplements simply aren't the best ways to meet our nutritional needs. If we can encourage people to eat more real food instead of reaching for a pill, we can make a huge impact on our public health," says dailyServing's in-house registered dietitian Katie Goldberg.
dailyServing delivers personalized health solutions through the natural power of food. These science based solutions attract consumers who are searching for a trusted source of nutrition information – providing tailored advice from a Registered Dietitian on what to eat to achieve common health and wellness goals. dailyServing's 100 percent pure cold press juice and trend focused super foods gives you expert nutritional advice and makes eating smart an easy choice.
"A recent Neilsen study found that three-fourths of Americans believe they can manage their health with nutrition, and one-third believe that food can replace medicine. But knowing how to make that happen can be daunting. As dietitians, we are trained to sift through the research and pull out the best information for the consumer. dailyServing is the result of that process," says Goldberg.
Look for dailyServing in locations throughout Chicago, including grocery stores, gyms and corporate offices. To get more details on these innovative new products visit http://www.mydailyserving.com.
About dailyServing
dailyServing is a new brand at the forefront of functional foods. Created in response to a demand for purpose driven nutrition using natural foods dailyServing created its line of 9 innovative products. Founded in 2014, dailyServing set out to become the leader of functional nutrition. For more information on dailyServing please visit http://www.mydailyserving.com.