CRISCO® INTRODUCES NEW ORGANIC COCONUT OIL
 Orrville, OH (April 23, 2015)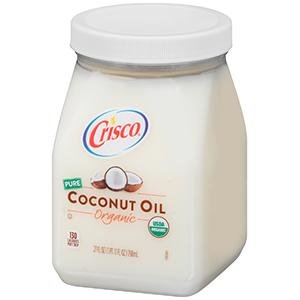 Crisco® is excited to welcome NEW Organic Coconut Oil to its quality line of products. Crisco Organic Coconut Oil is an easy substitute in recipes calling for butter, margarine, and other oils, making it a go-to pantry staple. It has no coconut aroma or flavor, offering maximum cooking versatility without changing the taste of your food.
Crisco Organic Coconut Oil is Certified USDA Organic, Non-GMO Project® Verified, kosher, and is available in a 27 fl oz jar.  From crunchy Almond Coconut Granola, simply delicious Homemade Popcorn, to spicy game-day Chicken Tenders with Sriracha Ketchup, Crisco Organic Coconut Oil is great for everyday cooking and baking needs.
"For consumers looking for a substitute to other oils and butters, Crisco Organic Coconut Oil is the perfect solution in the kitchen," said Maribeth Burns, Vice President, Corporate Communications, The J.M. Smucker Company."  "We're proud to be expanding our Crisco product offerings with such a versatile product."
Crisco Organic Coconut Oil can be used as a 1:1 replacement ratio with other oils and butter.  A few quick usage tips:
Heat Crisco Organic Coconut Oil in a microwave for 20 seconds at a time until melted.
When measuring for recipes, use Crisco Organic Coconut Oil in solid form when replacing butter or shortening, and use in a liquid form when replacing liquid oils.
Want pre-measured servings ready to go? Pour melted Crisco Organic Coconut Oil into ice cube trays, add favorite herbs for flavor, freeze until firm and store in refrigerator until ready to use.
Crisco Organic Coconut Oil is available in grocery stores nationwide for the suggested retail price of $6.99. For more information visit www.crisco.com and follow Crisco onFacebook.
About The J.M. Smucker Company
For more than 115 years, The J.M. Smucker Company has been committed to offering consumers quality products that bring families together to share memorable meals and moments. Today, Smucker is a leading marketer and manufacturer of consumer food and beverage products and pet food and pet snacks in North America with annual net sales of approximately $8 billion. In consumer foods and beverages, its brands include Smucker's®, Folgers®, Jif®, Dunkin' Donuts®, Crisco®, Pillsbury®, R.W. Knudsen Family®, Hungry Jack®, Café Bustelo®, Martha White®, truRoots®, Sahale Snacks®, Robin Hood®, and Bick's®. In pet food and pet snacks, its brands include Meow Mix®, Milk-Bone®, Kibbles 'n Bits®, Natural Balance®, and 9Lives®. The Company remains rooted in the Basic Beliefs of Quality, People, Ethics, Growth, and Independenceestablished by its founder and namesake more than a century ago. For more information about the Company, visit jmsmucker.com.
The J.M. Smucker Company is the owner of all trademarks referenced herein, except for the following, which are used under license: Pillsbury® is a trademark of The Pillsbury Company, LLC and Dunkin' Donuts® is a registered trademark of DD IP Holder LLC.
Dunkin' Donuts® brand is licensed to The J.M. Smucker Company for packaged coffee products sold in retail channels such as grocery stores, mass merchandisers, club stores, and drug stores. This information does not pertain to Dunkin' Donuts® coffee or other products for sale in Dunkin' Donuts® restaurants.