WINTER 2018 | NOV 29+30 | SANTA MONICA
A 2 Day Business Conference
for the Natural Food Industry
Navigation for the Booming Food Industry
With major changes in retail, investors pouring billions of dollars into brands, advancements in food technology and research, and in a space where over 20,000 new food and beverages launch each year, the natural food space often feels like a ride on the 405. NOSH Live is the event to help you map out the CPG industry and accelerate through this often chaotic space.
All-Star Brand Speakers And Industry Experts
On stage we speak to industry experts about innovation, the investment climate and the future of the industry. We assemble an all-star cast of brand leaders who talk about how they grew their companies through product, design and marketing decisions. The NOSH Live team carefully chooses speakers with detailed stories and actionable insights that will help our community accelerate their growth.
Be There to Discover What's Next
The NOSH Live conference creates additional opportunities for discovery by dedicating time to networking, tasting and seeing what's next. Speakers and experts are approachable, allowing you to walk up and ask them the questions that keep you up at night. The new Sampling Experience + Expo allocates two hours for everyone to try the latest prepared and single-serve natural foods. Expert tables provide a setting where it's easy to ask questions about production, ingredients, legal issues, investment and package design. The Pitch Slam puts rising star brands on display in a competitive environment. Project NOSH and BevNET edit teams are available to discuss what trends and brands they are covering and to make connections between attendees.
STAY AT THE FAMOUS LOEWS SANTA MONICA BEACH HOTEL
The NOSH Live Winter 2018 conference takes place at the Loews Santa Monica Beach Hotel. Enjoy the SoCal weather, magnificent sunsets, views of the Santa Monica Pier, and superior accommodations at the famous beachfront hotel. A discounted room block will be made available for registered attendees on a first-come first-served basis. Registering now grants you first access to the room block when it is made available.
INDUSTRY STARS SPEAK ON LESSONS LEARNED AND THE FUTURE OF THE INDUSTRY
All-Star speakers from established and up-and-coming brands inspire action through topics your business can apply now, like: lessons in growth, branding and marketing, how to raise and use capital, navigating the ever-changing state of retail, harvesting and harnessing customer insights and using data to make decisions. Industry experts drop knowledge on innovation, the investment climate and the future of the industry.

You're running a business. Our on-stage content is curated for co-founders, CEOs, CMOs, COOS, revenue leaders and decision makers from across your organization.
PAST SPEAKERS
Gary Hirshberg

Co-Founder & Chief Organic Optimist, Stonyfield Farm

Gary Hirshberg

Co-Founder & Chief Organic Optimist, Stonyfield Farm

Gary Hirshberg is Co-Founder and Chief Organic Optimist of Stonyfield Farm, the world's leading organic yogurt producer, and the author of Stirring It Up: How to Make Money and Save the World (Hyperion, 2008). Gary frequently speaks on topics including sustainability, organic agriculture and the profitability of green business. Gary serves on several corporate and non-profit boards, including Blue Apron, Forager, Orgain, Peak Organic Brewing, and UNreal chocolates as well as Advisory Board member for Applegate. He has received 12 honorary doctorates and numerous awards for corporate and environmental leadership including a 2015 Champion for Children Award from Mount Sinai Hospital's Children's Environmental Health Center and a Lifetime Achievement Award by the US EPA.

Adnan Durrani

Founder & CEO, Saffron Road

Adnan Durrani

Founder & CEO, Saffron Road

Mr. Durrani is the CEO and founder of American Halal Co, Inc. — which markets the Saffron Road brand line of culinary cuisines and plant based protein snacks. Saffron Road is the first halal product to be sold nationally in the USA. Whole Foods has noted Saffron Road as being one of the most successful brand launches nationally in their 30-year history. Saffron Road is now a leading Natural/Organic PLATFORM brand and is sold in over 20,000 retail food stores. According to A.C. Nielson/SPINS Scantrak, Saffron Road is the fastest growing natural frozen entrée brand in USA and nationally ranked #2. Mr. Durrani is a serial entrepreneur and investment professional for almost 30 years, as President of Condor Ventures, Inc., a venture firm devoted to strategic investing in natural food companies. His entrepreneurial ventures have resulted in a successful track record of scaling and growing niche beverage and natural food product lines into mainstream branded companies that also deliver disruptive social impact. Mr. Durrani founded Vermont Pure in 1991. Today, Vermont Pure/Crystal Rock is the 2nd largest bottled water company in the Northeast. Mr. Durrani was also a partner in Stonyfield Farms, Inc., which was sold to Groupe Danone in 2001. He was also a principal of Delicious Brands, Inc., which he scaled, with the financial backing of Carl Icahn, to become the 5th largest cookie brand in the U.S. Adnan also sits on the Board of Directors of Maple Hill Creamery.

Deb Hannah

Director, Retail Brand Partnerships, Starbucks

Deb Hannah

Director, Retail Brand Partnerships, Starbucks

Deb joined Starbucks 5 years ago, and for the past year has led the Retail Brand Partnerships team. She and her team run the snack category across North America and have the enviable task of finding new food brands for Starbucks stores that customers can feel good about—ones made with simple, pure ingredients and crafted with love and care. Prior to working with food entrepreneurs to build a snack business for Starbucks stores, Deb spent 12 years in traditional consumer packaged goods. At Starbucks she created the shopper marketing and shopper insights function from the ground up, and managed various coffee brands for the FDMC channel including Starbucks packaged coffee, Seattle's Best, and VIA Instant coffee. At Kimberly-Clark she worked in various brand management and innovation roles. There she managed the creation of multi-brand marketing programs and the brand and shopper marketing efforts for the U by Kotex® launch, which won numerous awards including an IRI product Pacesetter, a Silver Effie for Shopper Marketing, and a Gold Hub Prize. Prior to Kimberly-Clark, Deb worked as a consultant with several leading retailers for Kurt Salmon. Deb has an undergraduate degree from Texas A&M and an MBA from Goizueta Business School at Emory University.

John Foraker

Co-Founder & CEO, Once Upon A Farm

John Foraker

Co-Founder & CEO, Once Upon A Farm

John is the Co-founder and CEO of Once Upon A Farm, a company on a mission to build a purpose driven brand focused on reinventing a number of kid-food categories in the US toward better health & nutrition, while driving significant positive social and environmental impact. Company information can be found at www.onceuponafarmorganics.com. Prior to his new start-up, John spent more than 30 years in the natural and organic food industry running businesses with a sharp focus on sustainability and social responsibility. John was the longtime leader of Annie's, Inc., a leading natural & organic food brand, in the US from 1999 to 2017. As CEO of Annie's, he took the company public in 2012 under the symbol BNNY before General Mills acquired the business in 2014 for $820 million. For the following three years John ran the Annie's operating unit and also advised General Mills' small business incubator 301, Inc. He was recognized as an Ernst & Young Entrepreneur of the Year® 2015 in Northern California. In August 2017, he transitioned into a new role as Chairman of the Bunny, where he continues to work with General Mills to drive leadership in company culture, organic and regenerative agriculture, and strategy support. Foraker received a B.S. in agricultural economics from UC Davis and an MBA from UC Berkeley.

Sarah Michelle Gellar

Chief Brand Officer & Co-Founder, Foodstirs

Sarah Michelle Gellar

Chief Brand Officer & Co-Founder, Foodstirs

Sarah Michelle Gellar is a Golden Globe nominee and Emmy winning actress best known for her roles in Buffy the Vampire Slayer, ABC's All My Children, CBS's The Crazy Ones, and Cruel Intentions among others. Off screen, Gellar lends her time and support to child and hunger organizations as an advocate and activist. She works closely with No Kid Hungry and Baby Buggy as well as the nonprofit organization CARE. In October 2015, Gellar stepped into a new role as entrepreneur, co-founding Foodstirs (www.foodstirs.com) along with Galit Laibow and Gia Russo. Foodstirs is a culinary lifestyle brand that offers convenient, delicious and healthier ways to bring families together in the kitchen. From creative cooking kits to premium signature baking mixes, Foodstirs inspires creativity and curiosity, while emphasizing the importance of a healthier lifestyle.

Brendan Synnott

Founder, Revelry Brands & Bear Naked

Brendan Synnott

Founder, Revelry Brands & Bear Naked

Brendan Synnott is the Founder of Revelry Brands and Chief Executive Officer (CEO) of PACT | ORGANIC, makers of super soft organic cotton apparel. Synnott is leading his team to change the apparel industry for good. Synnott has built multiple lifestyle brands from scratch. His work has produced a unique signature across product categories that align with the millennial generation's evolved relationship with consumption. In 2002, at the age of 23, Synnott co-founded the healthy snack company, Bear Naked that was later acquired by Kellogg. In 2009, he founded Revelry Brands as a vehicle to provide strategy, people and capital to new ventures including co-founding EVOL Foods. Currently, Revelry holdings include the pet care brand I and Love and You, candy brand Little Secrets as well as apparel brand PACT | ORGANIC. With a degree in economics from Vanderbilt University, Synnott has levied his strengths to not only follow his passions, but tap into his competitive and energetic nature, which has included a role with the talent department at Saturday Night Live and a stint as a cast member on CBS's Survivor.

Seth Goldman

Chairman, Beyond Meat; TeaEO, Honest Tea

Seth Goldman

Chairman, Beyond Meat; TeaEO, Honest Tea

Seth Goldman co-founded Honest® Tea in 1998 with Professor Barry Nalebuff of the Yale School of Management. In March 2011, Honest Tea was acquired by The Coca-Cola Company, helping to further the reach and impact of Honest Tea's mission by becoming the first organic and Fair Trade brand in the world's largest beverage distribution system. Today, Honest Tea is the nation's top selling ready-to-drink organic bottled tea and Honest Kids® is the nation's top-selling organic kids' juice drink. The brands are carried in more than 130,000 outlets in the United States, including all Wendy's, Chik-fil-A, and SUBWAY restaurants. In 2016 Honest Tea's distribution expanded to Europe. In 2016, Seth transitioned to a new role at Honest Tea as TeaEO Emeritus and Innovation Catalyst for Coca-Cola's Venturing & Emerging Brands business unit. This transition allows him to take on an additional role as Executive Chairman of Beyond Meat, a privately held California-based enterprise on the cutting edge of plant-based protein research and development. In 2015 Seth was named the #1 Disruptor by Beverage World, and Beverage Executive of the Year by Beverage Industry magazine; he was also inducted into the Washington DC Business Hall of Fame. Seth has also been recognized by the United States Healthful Food Council with a REAL Food Innovator Award for helping change the food landscape by providing options that are healthier for both the body and the planet. Seth serves on the advisory boards of Ripple Foods, the Yale School of Management, the American Beverage Association, and Bethesda Green (a local sustainability non-profit he co-founded). He graduated from Harvard College (1987) and the Yale School of Management (1995), and is a Henry Crown Fellow of the Aspen Institute. Seth and Barry are the authors, along with graphic artist Soongyun Choi, of The New York Times bestseller Mission in a Bottle. The book, told in comic book form, captures their efforts to create a mission-driven business in a profit-driven world. Seth lives with his wife and three sons near Honest Tea's Bethesda, MD headquarters in an eco-friendly house.

Anthony Tyree

Vice President, Global Snacks, The Hershey Company

Anthony Tyree

Vice President, Global Snacks, The Hershey Company

Anthony (Tony) Tyree is Vice President, Global Snacks for The Hershey Company. He is responsible for fulfilling the company's vision of developing a $2 billion snacks portfolio across the globe. In his role, Tony leads the development of the strategic plan for Global Snacks, which translates to country implementation plans across focus markets. Tony's responsibilities extend beyond organic innovation platforms, like Hershey's Spreads, Snack mixes and Brookside snacks, to strategic opportunities including mergers and acquisitions (e.g. Krave).

Rachel Drori

Founder & CEO, Daily Harvest

Rachel Drori

Founder & CEO, Daily Harvest

Rachel Drori is the founder and CEO of Daily Harvest, the direct-to-consumer brand blending health and innovation to provide delicious superfoods straight to your freezer. Founded in 2015, Daily Harvest was launched as a solution to Rachel's own daily challenge: squeezing in healthy, nutritious meals into her busy life. From the early days of hand-delivering homemade smoothies from her car, Rachel has built Daily Harvest into one of the fastest-growing nutritional food brands in the U.S. The company has over 100k subscribers, delivering activated breakfast bowls, "nice cream" sundaes, and soups to freezers across the U.S. Today, Rachel continues to reimagine 'frozen fresh' to make health foods convenient without sacrificing nutrition or taste. Prior to founding Daily Harvest, Rachel harnessed her skills as a customer-centric marketing executive, leading teams at Gilt Groupe, American Express, and Four Seasons Hotels and Resorts. Rachel holds a Bachelor of Arts degree from the University of Pennsylvania and an MBA from Columbia Business School. She currently resides in New York City with her family.

Siggi Hilmarsson

Founder, Siggi's Dairy

Siggi Hilmarsson

Founder, Siggi's Dairy

Siggi Hilmarsson was raised in Iceland on a traditional Icelandic diet. After moving to the United States to attend Columbia Business School, Siggi started to miss a staple of his childhood diet; skyr, the traditional Icelandic yogurt he grew up with. Yogurt here in the US had far too many ingredients and was much too sweet for his liking so he took matters into his own hands and started making yogurt in his apartment kitchen. After months of experiments, the skyr showed enough promise and soon moved from Siggi's kitchen to a local agricultural college in Upstate New York, where the first 'professional' batch of siggi's was made. Within a year, Siggi quit his corporate job, set up formal yogurt production and started selling his products at an outdoor farmers market in New York City. From kitchen to dairy plant, and from a local New York City market to Whole Foods as his first retail customer with national distribution, demand for siggi's yogurt grew quickly. From inception, simple ingredients and not a lot of sugar has been Siggi's motto and that still holds true today. Siggi's homegrown knowledge for yogurt and his passion for reducing sugar in our diets have made him a go-to expert with appearances on national TV such as ABC, CNN and CBS Sunday Morning. He has been recognized by Food & Wine Magazine's 40 Under 40 and Paper Magazine's cheeky Beautiful People issue.

Brian Rudolph

Co-Founder, Banza

Brian Rudolph

Co-Founder, Banza

Brian Rudolph is on a mission to make nutritious food more accessible. At the age of 23, Brian co-founded Banza along with his brother Scott. Banza makes the foods you love better, by using more nutritious ingredients. Less important by far than his pasta, Brian has been featured on Forbes and Inc's 30 under 30 lists and with Scott on CNBC's Restaurant Startup. Brian received his BBA from Emory University and is an alumnus of the Venture for America fellowship.

Michael Renkosiak

Director of Regional Promotions Team, KeHE Distributors

Michael Renkosiak

Director of Regional Promotions Team, KeHE Distributors

35 years in grocery industry. Each career phase involving Snack foods. From well-known regional brands to nationally distributed market leaders, Michael has used direct store-door distribution, regional DSD and national distributors to reach the retail marketplace. His career has been in traditional grocery sales and marketing comprising the first half, and the current half continues in the Natural/Organic focused segment of the industry. Michael brings insights of marketing both branded and private label Snacks as a direct manufacturer, a broker, and a national distributor. He has watched snacking change from a few flavors of potato chips and a few types of pretzels, to an array of meat, nut fruit and vegetable snacks that in some cases have replaced meals. One thing has remained constant. Snacks are still that impulsive buy no matter what type of consumer is purchasing. And reaching that consumer is actually easier than ever.

Maura Mottolese

CEO, Tate's Bake Shop

Maura Mottolese

CEO, Tate's Bake Shop

Maura Mottolese has been the CEO of Tate's Bake Shop since it was acquired by The Riverside Company private equity group in late 2014. Ms. Mottolese began her tenure with Tate's setting the stage for accelerated growth by collaboratively leading the team to unprecedented sales and distribution gains, a complete rebranding, launching its first national advertising campaign, a renovation to create state of the art kitchens and expanding production capacity 50%, recruiting a first-class sales team and relocating the corporate offices. Under Ms. Mottolese's leadership revenues have doubled and Tate's has become the #1 brand in dollar growth within the shelf stable cookie category. According to the head buyer at leading US retailer, "Tate's has disrupted the formerly stagnant cookie category!" Previously, Ms. Mottolese was President of The Switch Beverage Company, a sparkling juice company which was owned by a private equity firm who hired Mottolese to revive the brand post-bankruptcy. The Switch was successfully sold to a strategic buyer in 2014. Maura has also held a variety of senior level marketing roles, driving growth across a broad portfolio of marquee brands including, Revlon, Snapple, Mott's, Hawaiian Punch, and Schweppes to name a few. Ms. Mottolese earned her B.S. in Business Administration from the University at Buffalo, and her MBA from Cornell University's Johnson Graduate School of Management.

Tom Bilyeu

Co-Founder & President, Quest Nutrition

Tom Bilyeu

Co-Founder & President, Quest Nutrition

Tom Bilyeu is the co-founder and president of Quest Nutrition and the host of the weekly thought leadership talk show, Inside Quest. Tom and his business partners have been working as a team for 13 years, across multiple companies. Quest Nutrition, however, was the company that broke the mold. Previously driven by an obsessive focus on profitability and companies designed to be sold, Tom and his partners founded Quest with a different vision: building a company with a mission - a company designed to last. To do so, they asked themselves one question, "What would we love doing even if we were failing?" Enter Quest Nutrition. In just five years, Tom has helped grow the company from a modest passion project into the second fastest growing private company in America, with over 57,000% growth in its first three years alone (via Inc. 5000). For Tom the mission of Quest is deeply personal – he wants to save his mom and sister from metabolic disease. To do that he plans to transform the entire food industry by creating foods that taste as good as they are good for you. That's what makes Quest more than just a food company, it's a company that will never stop innovating until global nutrition has been freed from the stranglehold of junk food. Tom is a forever student of life. His obsession with mastering skills has molded him into a well-rounded leader, battle-hardened and unafraid to fire moonshots.

Liz Myslik

CEO, Fresca Brands, CMO, Fresca Foods Inc.

Liz Myslik

CEO, Fresca Brands, CMO, Fresca Foods Inc.

Liz Myslik is Chief Marketing Officer of Fresca Foods and CEO of Fresca Brands. Fresca partners with visionary entrepreneurs and operates high growth natural and organic food brands as a vertically integrated natural foods company. Liz has been helping to build great brands for over 20 years as a marketer, CEO, and investor. Named by Forbes Magazine as a Kingmaker in Consumer and Retail industries, by Fortune Magazine as one of the Most Influential Women in Food and Drink, and by New Hope Natural Media as one of 9 Wonder Women In the Natural Food Industry, Liz has become a go-to person in the natural products industry by helping numerous companies innovate and grow. Liz received her BS from the University of Colorado at Boulder and her MBA from the Kellogg Graduate School of Management at Northwestern University. She lives in Denver, CO.

Brett Thomas

Co-Founder, CAVU Venture Partners

Carole Buyers

Co-Founder & Managing Partner, BIGR Ventures

Carole Buyers

Co-Founder & Managing Partner, BIGR Ventures

Carole began her career in natural foods over 20 years ago, as an analyst in the then nascent natural foods industry. As one of the first analysts to cover Whole Foods, she has had a front row seat as the story of this now powerful sector has emerged. Carole has worked with RBC Capital on the Sell-side and The Boston Company on the Buy-side. In 2008, Carole left financial services, taking a leadership role in corporate finance and investor relations with Gaiam, Inc. In 2010, Carole joined Boulder Brands as Senior Vice President of Business Development and Investor Relations. While at Boulder Brands, Carole led the acquisition of 4 companies over her first 3 years. Concurrent to this role, Carole served as Managing Director of Boulder Brands Investment Group from 2013 to 2015. Carole sits or has sat on the Boards of Temple Turmeric, EPIC and Bonafide Provisions.

Caue Suplicy

CEO, Barnana

Suzanne Ginestro

Chief Marketing + Innovation Officer, Campbell's Fresh Division

Suzanne Ginestro

Chief Marketing + Innovation Officer, Campbell's Fresh Division

Suzanne Ginestro is the Chief Marketing & Innovation Officer for C-Fresh, the new fresh food division of the Campbell Soup Company. In her role, Suzanne not only leads brand management for the Bolthouse Farms and Garden Fresh Gourmet business units, but also spearheads the strategy & development of new product platforms, partnerships and acquisitions that will enable the C-Fresh Division to expand into more fresh refrigerated categories in the future. Prior to this expanded role, Suzanne was the Chief Marketing Officer for Bolthouse Farms, where she led brand strategy, product marketing, creative development, communications and digital engagement for the Bolthouse Farms fresh carrots, super-premium beverages, and refrigerated salad dressings businesses. Before joining Bolthouse Farms, Suzanne had more than 12 years of marketing experience and held leadership roles in both consumer packaged goods and the retail foodservice industry. Suzanne was the Vice President of Brand Marketing for Pinkberry, the Head of Brand Marketing for Red Bull North America, and held various brand management positions during her tenures at both Dreyer's Grand Ice Cream and Kraft Foods.

Nicky Jackson

CEO & Founder, RangeMe

Nicky Jackson

CEO & Founder, RangeMe

The concept of RangeMe came to Nicky while developing a range of baby skincare products. Looking for ways to achieve fast distribution, she had the idea to create a single network to match sellers with buyers looking for products like theirs. Before launching RangeMe Nicky worked as a Marketing Executive at Kellogg's, Uncle Toby's, Goodman Fielder, Pepsico and Jim Beam. A keeper of an entrepreneurial spirit, Nicky is also a leading voice for women in business and technology. The accelerated growth of RangeMe with her at the helm has catapulted Nicky as a true pioneer in the CPG Technology space. Nicky currently resides in San Francisco with her beautiful family of four.

John Tucker

CEO, Farmhouse Culture

John Tucker

CEO, Farmhouse Culture

A food industry veteran, John recently joined Farmhouse Culture, a leader in the fermented foods category, as CEO. John believes probiotics are beginning to play a vital role in reshaping the American diet and leading consumers to better health and wellness by rebalancing their microbiome. John is excited to be building the Farmhouse Culture brand through thought leadership and the delivery of probiotics through superior tasting foods, snacks and beverages. John is the former CEO of bread baking pioneer, Dave's Killer Bread. Under his leadership, the company quickly moved to address its untapped growth potential and expanded distribution. Today, the Pacific Northwest favorite is the No. 1-selling organic bread in the U.S. reaching full national distribution in May of 2015. John began his career in quality assurance, quickly evolving into research and development and product innovation with such notable companies as Kraft, Weight Watchers and Heinz. His vast experience includes working in various parts of the U.S. and overseas. Eventually he moved into marketing and business development with SO Delicious Dairy Free, where he ultimately became President. His leadership was marked by successful efforts to improve the company's innovation, re-craft their marketing and build a strong leadership team - evolving the company from soy food to a market-leading dairy-free brand. An advocate of corporate social responsibility and President of Dave's Killer Bread Foundation, John speaks frequently to business leaders and entrepreneurs about the social value of hiring individuals with criminal backgrounds.

Sarah Palisi Chapin

CEO, Hail Merry

Sarah Palisi Chapin

CEO, Hail Merry

Sarah Palisi Chapin has served as Chief Executive Officer and board member of Hail Merry since 2009, when she and Ali Brushaber, chief product officer, joined Hail Merry founder Susan O'Brien in her home pool cabana to partner for growth. Susan had successfully created the brand and built a cult following for her raw lifestyle pure ingredient products and her shelf success suggested it would grow to be a leading brand. Now operating from a 30,000-foot kitchen, Hail Merry continues as a leading snack and dessert brand sold in natural, conventional and foodservice, with all products non-gmo verified, gluten-free, vegan, and which celebrate raw plant oils. Ms. Chapin brings more than three decades of experience in the food service industry, including a comprehensive understanding of strategy, franchising, commercial kitchen technology, brand management, product development, marketing, operational excellence, market expansion and acquisition strategy. She is a member of the board of Yummy Spoonfuls, and The Middleby Corporation (NADQ: MIDD). She has previously served as a member of the Board of Directors of Caribou Coffee Company, Inc., 2007 to 2013, and more than a dozen for profit private and public companies over a 20 year span. Previous positions include CEO of Enersyst Development Center (intellectual property R&D and licensing company in food) from 1995 to 2003, VP of Worldwide Business Strategy of Burger King Corporation from 1990 to 1995 (including food globally and co-development of their purchasing COOP RSI) and new concept development for PepsiCo and Pizza Hut.

Rich Gillmore

Sr. Category Manager, Gelson's Markets

Rich Gillmore

Sr. Category Manager, Gelson's Markets

Rich Gillmore is the Senior Category Manager of Dairy/Deli/Frozen at the high end grocery retailer, Gelson's Market. An industry veteran with over 30 years of retail experience, Rich started his career with Vons, gaining valuable insight as a store manager for over two decades. He then took an opportunity at Gelson's Market in 2007 to work in their main offices as a Category Manager. Since joining Gelson's, Rich has gained a decade worth of experience in the natural/specialty sector and become widely respected as leader in the space.

Phil Anson

Founder, Evol, Interim General Manager, Boulder Brands

Phil Anson

Founder, Evol, Interim General Manager, Boulder Brands

Phil Anson is the founder of EVOL Foods and joined Boulder Brands when it acquired EVOL in 2013. After running Boulder Brands' Frozen Foods segment and expanding both distribution and product offerings under the EVOL and Udi's Brands, Phil was appointed the role of Chief Innovation Officer, where he built a world class innovation team and center while optimizing processes. In July of 2015, Phil was appointed the role of Chief Commercial Officer and became responsible for leading the combined sales, marketing, innovation, and insights efforts at Boulder Brands. In January of 2016, after a successful sale of Boulder Brands to Pinnacle Foods, Phil was appointed the role of Interim General Manager. Phil has 15 years of experience as a Natural Foods Entrepreneur in food manufacturing, marketing, sales, distribution, finance and strategic planning. Phil is a long-time culinary enthusiast and creative innovator who successfully grew one of the most compelling challenger brands found in the market today.

Lori King

President and COO, Stonewall Kitchen

Lori King

President and COO, Stonewall Kitchen

Lori King has over 25 years of professional experience. She was recently promoted to President and COO after 17 years as Chief Operating Officer and Chief Financial Officer at Stonewall Kitchen. Stonewall Kitchen is a leading manufacturer of premium branded specialty food and related products, including jams, bottled sauces, crackers and pancake mixes. Stonewall Kitchen has grown to become a leader in the specialty foods industry, becoming a brand with international recognition and achievement of several global specialty food competitions at the Specialty Food Association. Lori has been a key driver in Stonewall Kitchen's sales growth and financial stability. As the CFO/COO for the past 17 years, Mrs. King was responsible for the development, design, operation, and execution of the systems that create and deliver the firm's products/services. She led the areas of finance, manufacturing, distribution, IT/IS, R&D, quality control, and human resources. She continues to lead the Company's strategic planning processes and has been instrumental in developing and implementing high-level strategies aiding in the development of the Company's marketing and merchandising strategies. Over her tenure, Lori has been a key driver in Stonewall Kitchen's formidable sales growth and financial stability.

Amit Pandhi

CEO, Arctic Zero

Amit Pandhi

CEO, Arctic Zero

Mr. Pandhi joined Arctic Zero in 2010 as CEO. Prior to joining Arctic Zero, Mr. Pandhi was a founding member at Huntsman Gay Global Capital, a billion dollar private equity firm. While at Huntsman Gay, Mr. Pandhi was responsible for evaluating and executing leverage buyout and growth equity transactions. Prior to joining Huntsman Gay, he worked in the Mergers & Acquisitions Group at Oppenheimer/CIBC World Markets in New York, New York. He earned his Bachelor of Arts Degree in Economics, magna cum laude, and his Bachelor of Arts Degree in Political Science from the University of California, Irvine on a Regents Scholarship; he earned his Master in Economics Degree from the University of Pennsylvania.

Matthew McCarthy

Vice President of Foods, Unilever North America

Matthew McCarthy

Vice President of Foods, Unilever North America

Matthew McCarthy heads up Unilever's Food business in North America. In his 20 years with the company Matthew has cultivated a diverse path in marketing and general management working across Foods and Personal Care. He has led a wide range of iconic consumer brands and has a passion for building teams and creating transformative growth. Matthew has received a number of industry recognitions including Cannes Gold Lion, One Show Gold Pencil, IAB MIXX and Adweek's Brand Genius award. As Vice President Foods NA Matthew is a member of Unilever's US country board and global Foods Leadership team. Matthew's wife Lisa is a director at the Bronx Zoo/Wildlife Conservation Society and together they are actively involved in their personal passions of animal welfare and social justice.

Marisa Bertha

Director of Business Development & 7-Ventures, 7-Eleven

Marisa Bertha

Director of Business Development & 7-Ventures, 7-Eleven

Marisa Bertha is the Director of Business Development & 7-Ventures. She joined 7-Eleven in 2013 as a part of the internal strategy group and transitioned to BD & 7-Ventures in 2015. Her team's mission is to ensure 7-Eleven leads the marketplace as the destination for customers to find new and innovative products and services. Marisa leads the discovery, testing and investment in startups to help 7-Eleven maintain engagement and relevance with the ever-changing consumer. Previously, Marisa worked at Deloitte Consulting where she partnered with Fortune 500 clients on large-scale business transformations. Marisa holds a BBA from Southern Methodist University and an MBA from Duke University Fuqua School of Business.

Jeremiah McElwee

Senior VP of Merchandising & Product Development, Thrive Market

Jeremiah McElwee

Senior VP of Merchandising & Product Development, Thrive Market

A twenty-five year veteran of the Natural Products industry, Jeremiah has been on all sides of the business and supply chain, literally from seed to shelf. Thrive Market's Senior Vice President of Merchandising + Product Development, Jeremiah also served for 7 years as the Executive Global Coordinator for the Beauty, Apparel & Wellness categories at Whole Foods Market, a $1.5 billion annual division of the business during his tenure. During his time at WFM, he pioneered multiple, industry changing, quality standard initiatives including natural beauty standards (AKA WFM's Premium Body Care standard), organic labeling requirements for personal care, and the largest ever sustainable packaging guidelines for a major retailer later adopted by WalMart. Jeremiah is also a passionate advocate for and creator of Fair Trade standards that changed the natural products landscape. In addition to developing hundreds of branded products that line natural food store shelves and managing the Whole Foods & 365 private label brands, he also helped Dr. Andrew Weil develop his branded product platform. Thrive Market launched in November 2014 and has skyrocketed to become the largest national Non-GMO food retailer in the US while democratizing access to natural + organic foods for all Americans. Jeremiah was part of the startup team and built the initial product launch catalog and also is responsible for Thrive Market's premium quality, yet value priced, private label program. Since December 2015, Thrive has launched over 370 private label items with over 500 more products in the pipeline scheduled for launch in 2018 & beyond! 98% of the items launched to date are Certified Organic with a focus on regenerative agriculture practices as well. Jeremiah and his team spend countless hours sourcing the highest quality, organic + non-GMO products so that Thrive Market Members can feel confident they are getting the absolute best for themselves and their families everyday. When not working as an eco-superhero, he can be found in the Texas Hill Country practicing hot vinyasa yoga, spending time with his daughters, or checking the surf report and planning his next escape to the coast.

Scott Jensen

CEO, Rhythm Superfoods

Scott Jensen

CEO, Rhythm Superfoods

Scott Jensen is CEO of Rhythm Superfoods; manufacturer of organic plant-based superfoods snacks. He is the former CEO & President of One World Foods (Stubb's Bar-B-Q), which he co-founded 20+ years ago with C.B. Stubblefield and two close friends. One World Foods was successfully sold to McCormick & Co. in 2015. Scott led Stubb's in its national and international expansion to be the largest Super-Premium Bar-B-Q and Marinade brand in the country. He also co-founded and sits on the board of Stubb's Austin Restaurant Company, the famous Bar-B-Q and Live Music Venue in Austin, Texas. Scott is a member of the Austin Chapter of WPO and the head of the Specialty Food Executive Forum. Scott graduated with a BS in Psychology and a BA in Business Communication from SMU and received his MBA from NYU. Before co-founding Stubbs, Scott was a marketing manager at James River Corporation (Dixie Cups & Plates, Brawny Paper towels and Northern Bathroom Tissue brands). Prior to NYU, he spent two years at the Bloom Advertising Agency (Publicis, USA) in Dallas working on several national consumer products advertising campaigns for Nestle Specialty Foods, Carnation, Ross Laboratories, Juicy Juice, Kern's among others. He lives in Austin, TX with his wife and two sons.

Lindsay Greene

Senior Advisor, Deputy Mayor for Housing & Economic Development, New York City Mayor's Office

Neal Gottlieb

Founding Twin, Three Twins Ice Cream

Neal Gottlieb

Founding Twin, Three Twins Ice Cream

Neal Gottlieb launched Three Twins Ice Cream in 2005, and has since expanded his business from a single scoop shop to a national brand sold in nearly 4,000 locations across the United States. Though he started the California-based company with no ice cream production experience, Gottlieb's goal has always been to build Three Twins into a major brand of reasonably priced, inconceivably delicious organic ice cream.

Monika Coyle

Local Purchasing Coordinator, Whole Foods Market

Monika Coyle

Local Purchasing Coordinator, Whole Foods Market

Monika Coyle oversees Local Purchasing for Whole Foods Market Southern Pacific region. In this position, Monika gets to work first hand with artisans and suppliers to launch vibrant products in the region. Monika's experience started in the vibrant world of beer, wine and cheese, where she honed her palette and helped elevate product selection as well as team member engagement with the Specialty Foods world. She then brought her skillset to the regional Grocery team, overseeing operations and later purchasing for the region. Monika holds degrees from DePaul University in Chicago as well as Kendall, where she polished her culinary savvy. The limited time Monika is not exploring food in some capacity, she enjoys staying active with her husband and their 14 month old daughter as well as traveling as much as possible.

Robert Mock

CEO and Co-Founder, New Frontier Foods Inc. (Ocean's Halo)

Tero Isokauppila

CEO, Four Sigmatic

Tracy Miedema

VP Innovation, Presence Marketing

Tracy Miedema

VP Innovation, Presence Marketing

Growing up in the Pacific Northwest with family roots in the Deep South, gardening, gathering, hunting and preserving real food shaped her basic food philosophy: know where your food comes from, prepare it with care and enjoy time around the table. With over 15 years serving the natural and organic industry, Tracy has focused on building transformative food brands for consumers and building enterprise value for companies. She is now the VP of Innovation & Brand Development at Presence, the nation's leading natural products broker where she oversees the company's two investment portfolios, Omnipresence and Plan-It-Earth. She has also served for 5 years on the US Federal Regulatory Advisory Committee for Organic, the USDA National Organic Standards Board, including Chair of the Board. Past roles include Director of Product Innovation for Earthbound Farm/ WhiteWave Foods, creating consumer brands for Stahlbush Island Farm, and Marketing with General Mills' Small Planet Foods Division, Since 2012, Tracy has led graduate student teams in product innovation at the Darden School of Business at the University of Virginia. Tracy holds a BA from the University of Washington and an MBA from Western Washington University. She lives with her family in rural Oregon.

Steve Hughes

CEO & Co-Founder, Sunrise Strategic Partners

Steve Hughes

CEO & Co-Founder, Sunrise Strategic Partners

Stephen Hughes (Chief Executive Officer) is a pioneer in the natural and organic food and beverage industry, and a veteran food industry executive with over 30 years of experience. Most recently Steve was Founder, Chairman and CEO of Boulder Brands, a publically-traded natural food and beverage company with a portfolio that included well-known brands EVOL, Udi's Gluten Free, Glutino, and Earth Balance. Steve has previously worked in leadership positions on such brands as Celestial Seasonings, Silk, Tropicana and Healthy Choice. Steve's network includes relationships with the industry's founding leaders, key influencers and decision makers, including cutting edge retailers, sales and marketing organizations, advertising agencies and consultancies. But most importantly, Steve has been fortunate to have a strong partner - and love of his life - in his wife, Grace. Throughout Steve's career, she has always kept Steve focused on doing the right thing - which ultimately led them to Boulder and to Steve's passion for the natural products industry. In 1992, Steve was offered the coveted job as Chief Marketing Officer of Frito Lay. Grace's reaction was 'Do you really want to wake up every day and sell potato chips?' Always the first one to see the next new thing, this insightful comment by Grace completely changed the trajectory of Steve's career - for the better. Steve received a Masters of Business Administration from the University of Chicago Booth School of Business. Steve currently serves on the board of Good Belly, PACT Apparel, Perky Jerky and Teton Waters Ranch.

Drew Braithwaite

COO, Chapul

Drew Braithwaite

COO, Chapul

Drew Braithwaite is the COO of Chapul, a food company committed to introducing a more sustainable protein source, in the form of crickets, into the Western diet. Prior to Chapul, he worked as an operations executive for environmental and mission-driven organizations in rural Tanzania, Haiti, and Park City, Utah. Drew has extensive experience implementing solutions to complex environmental challenges, and a particular interest in harnessing the power of entrepreneurship to drive environmental innovation. Drew earned a B.S. in Environmental Science from Utah State University, and a MBA from the MIT Sloan School of Management.

Peter Rahal

CEO & Co-Founder, RXBAR

Kyle Ransford

Founder & CEO, Chef'd

Kyle Ransford

Founder & CEO, Chef'd

Kyle is the founder and CEO of Chef'd, the only nationally distributed omni-channel perishable food platform in the U.S. Mr. Ransford is a proven entrepreneur who has successfully started several businesses, including Cardinal Investments and Bank of Manhattan. He has extensive investment banking experience, having previously worked at Hoolihan Lokey and Halcyon Asset Management, LLC. Mr. Ransford has been on the other side of the transaction as well, having successfully raised more than $50M for his own startup companies.
THE INDUSTRY IS GROWING AND SO ARE WE. ENTER DAY 2.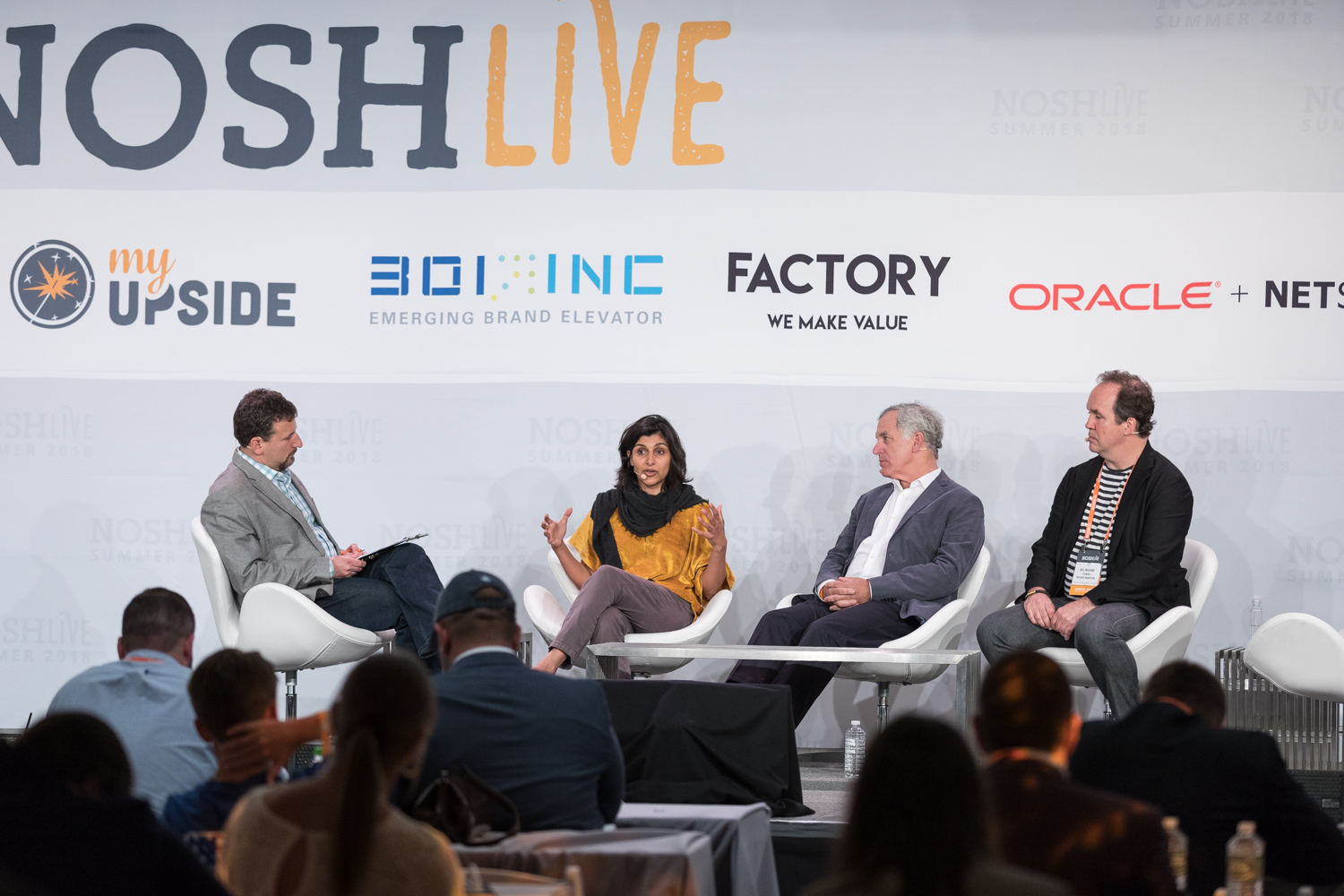 The natural products space is booming at close to $150 billion dollars annually. Investment is extraordinary with million dollar raises becoming common-place, while trendy spaces like plant-based meats have companies like Impossible Foods who just raised another $114 million.
The playbook for brands is ever-changing with big shifts in retail and new players entering the traditional and club channels causing brands to ask big questions. And there are as many questions about direct-to-consumer. The industry is booming so we added a second day to help make sense of where we have been and where we are heading.

A DISTINCT FOCUS ON BRAND AWARENESS AND INDUSTRY EXPOSURE
The NOSH Live experience is about the community getting acquainted, learning about what's next and accelerating. Some brands are just starting and looking for capital and awareness. Others are established and have something to teach. Some brands are in discovery mode, looking for brands to add to an incubator or to spot their next product opportunity. Others want to gain an advantage with their production or marketing. Enter Pitch Slam and the Sampling Experience + Expo.
---
NEW: NOSH LIVE SAMPLING EXPERIENCE & EXPO POWERED BY PINATA
NOSH Live is a show about natural foods and we take the experience of trying natural foods seriously. Our new Sampling Experience + Expo gives brands a chance to be the sampler in a structured networking setting where everyone can try new, hot and trendy single-serve and prepared foods with opportunities to get down to business at our expert roundtables and interact with suppliers and service providers who can help you with growth at scale.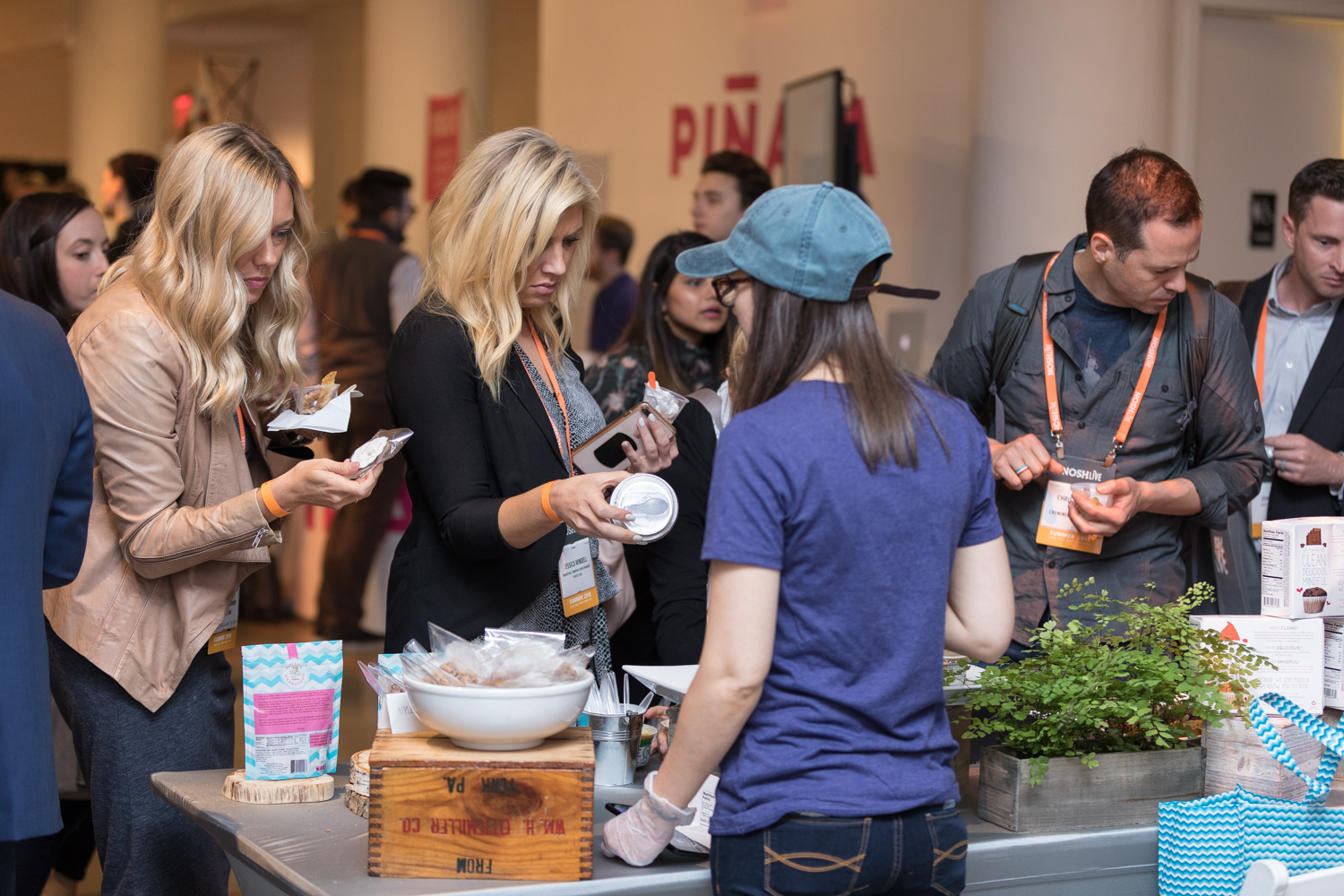 ---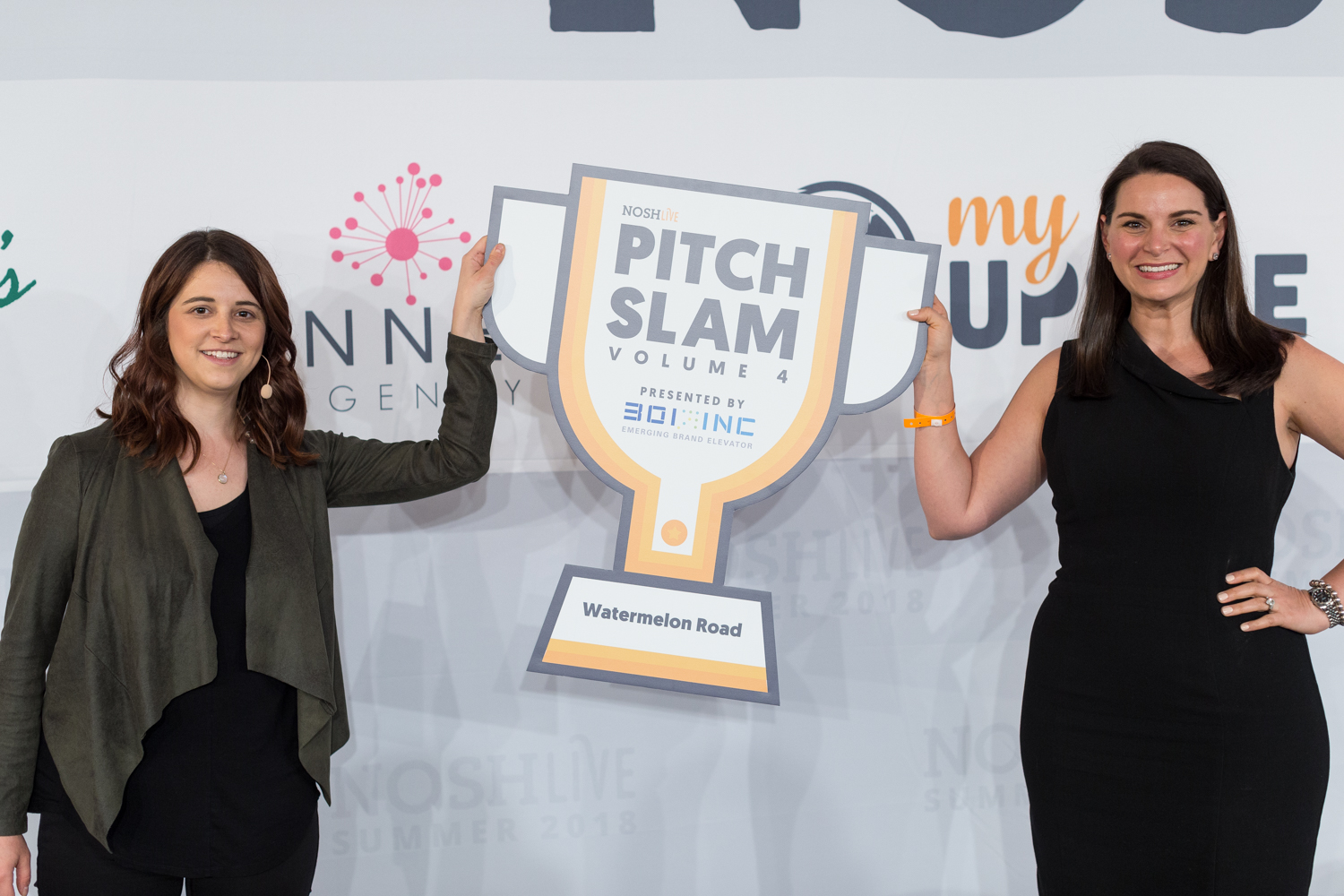 PITCH SLAM VOLUME 5: YOUR BRAND CENTER STAGE
We put the hottest new brands in the spotlight in our annual Pitch Slam contest.
Up-and-coming startup brands prepare their best presentation for the NOSH Live main stage. Founders receive instant feedback from a group of expert judges of top retailers, brands, investors, designers, the NOSH community and the world via our livestream. The winner achieves the distinction of being champion along with a digital industry awareness package on Project NOSH that will give them more valuable exposure to the broader community.
COLLABORATE, OPEN DOORS, PLUG-IN
The vibe of NOSH Live is highly collaborative. The event attracts a group of decision makers, including founders and CEOS from established and new brands who are ready to learn, innovate and grow, along with top experts from investment, retail, supply, distribution and services.
If you want to walk up to your favorite investor to have a conversation, you will have time. If you want to sit with thought leaders to discuss opportunities that have been puzzling you or that you are ready to kick off, the opportunity is there to seize.
The Project NOSH and BevNET edit teams and staff will be there to help you make connections and talk about coverage.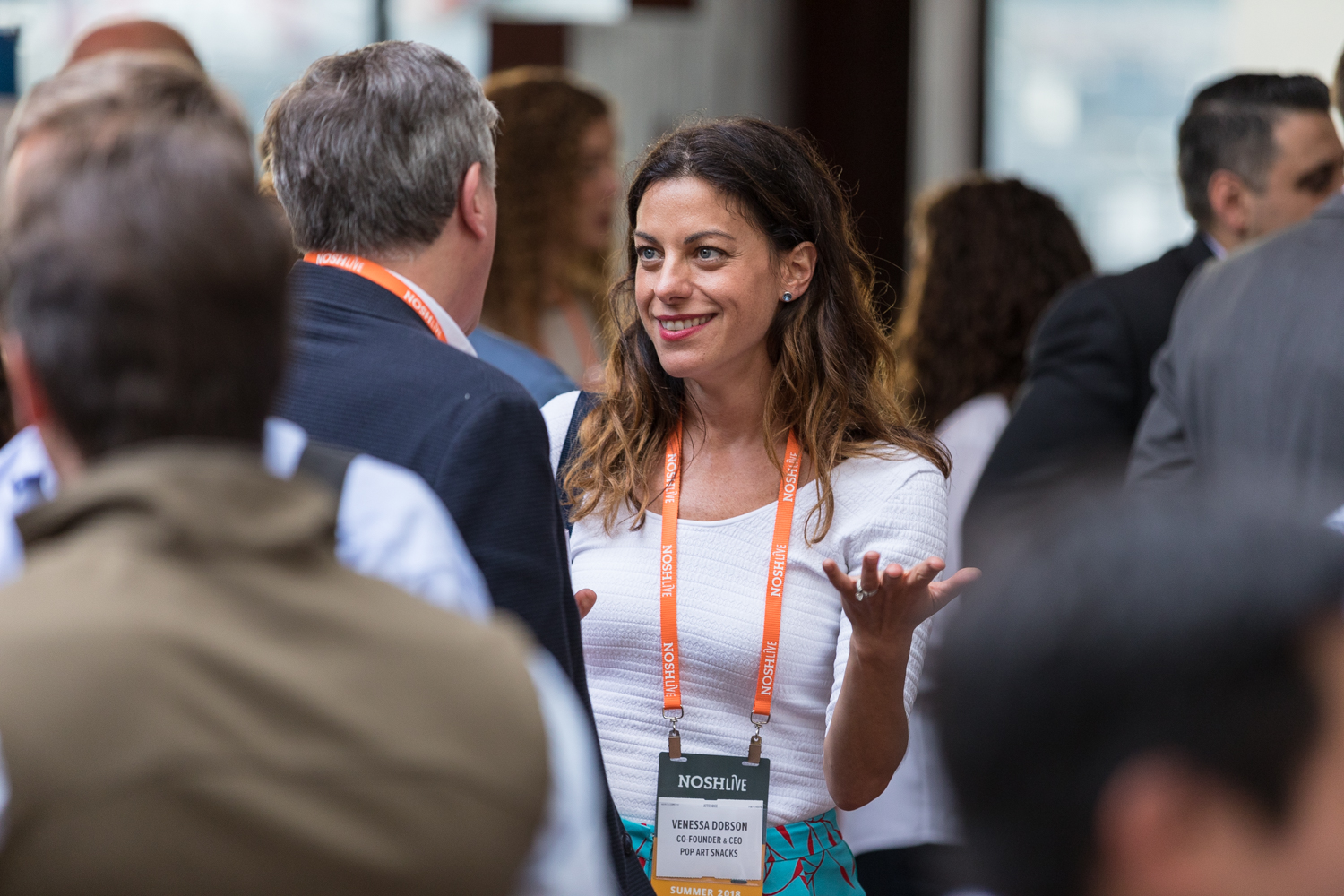 BOOTCAMP IS VITAL FOR INDUSTRY NAVIGATION
Experts making an industry change and fresh faces alike find that an industry primer ahead of the main event is a great gut check for newbies to the massive natural products space. Learn how to choose the right investor and capitalize your business. Get tips on designing your package. Learn the ins and outs of legal and accounting. Hear story-telling and buzz creation advice from experts in marketing and public relations. Sit down with the pros after the presentations to ask your own specific questions in an environment paced for learning and discussion.


RECENT EVENT ANNOUNCEMENTS
GET CONFERENCE UPDATES
Sign up to receive NOSH Live speaker and program announcements straight to your inbox.